Groundwork Essex and the Environment Agency are working together to raise awareness of pollution issues and flooding problems with the areas of Ongar, North Weald Basset, Thornwood and Moreton.
The aim is also to determine local knowledge about the local rivers, their experience of flooding, their opinions of why flooding occurs and how it can be reduced. These areas are within the River Roding catchment so this project is part of the Roding, Beam and Ingrebourne (RBI) Catchment Partnership.
---
What does the project involve?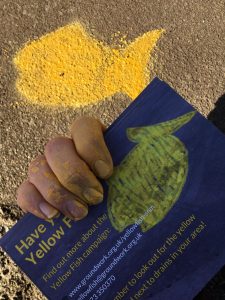 Local businesses in Ongar were visited and the Yellow Fish campaign and made aware of the main principles; to deliver the message 'only rain down the drain' and make local people aware of the impacts they can have on the local water environment and the simple things they can do reduce this. We ask local businesses to support this campaign by displaying posters and leaflets on their premises, make their employees aware of Yellow Fish and also to speak to their customers about this where appropriate.
We also visited and delivered leaflets to local residents in Ongar, North Weald Bassett, Thornwood and Moreton. This, like with the businesses in Ongar, was to promote the Yellow Fish campaign and give advice on reducing the impact on the local water environment.
An additional part of this project was to survey local residents to get their views on the local river and their experience and opinions of flooding. This questionnaire help determined how often local people used the area around the local river, for what reason and their impression on the habitat and condition of the river. It also asked about local experiences of flooding, where flooding occurred, what additional flooding information and help people would like and whether they would like to be more involved in local activities. These results will be used to determine next steps in these areas.
Funding is currently being sort to continue the campaign in this area.