BLOG: The power of climate education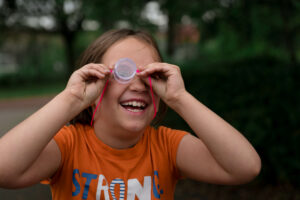 Getting more people into green jobs is vital if we are to tackle climate change. Making the shift towards a green economy is complicated and has many moving parts but it is nonetheless essential. Our latest report, Growing Green Careers, explores policy around green jobs and sets out key priorities that must be addressed moving forward, including creating accessible pathways into green jobs. Education has massive potential to inspire the next generation and prepare them for a new way of working. And yet our Youth in a Changing Climate report, published last year, found that young people want more from our education system; they are well aware of the threat posed by climate change but often feel powerless and ill-equipped to do anything about it.
Speaking from my own experience, this was definitely how I felt for a long time. In addition to the bare minimum education we got at school, it often feels like there is a lot of pressure (mostly coming from social media) to be perfectly eco-friendly all the time – an endeavour that often involved buying a cool new product…suspicious. Amidst this, there are then people saying that these things don't work and won't change anything. With little foundational knowledge, deciphering all of the messaging we get online can feel pretty overwhelming and disempowering.
And then I joined Groundwork and finally started learning how real change happens. I had a vague sense that social justice and climate change are related, but it was something I had only really come across in passing. Working at Groundwork, and even before as I was reading about their work, I was inspired to see that there is a way forward. I have learned more in the past two months at Groundwork about the structural struggles of climate change and what must be done on the global, national, local and personal level to address the problems than I did through my entire education – including a bachelor's and master's degree in subjects heavily involved with issues of social justice. For example, how green jobs and a transition to a green economy can – and must – simultaneously work to tackle social and economic inequality by providing jobs and economic reinvigoration to disadvantaged communities.
The Government have also identified the importance of environment and climate education; today the Department for Education released their Sustainability and Climate Change Strategy, detailing their plans for improving climate education. This strategy appears to address many of the current shortcomings, implementing provisions in many different areas. These include: embedding climate education into foundational learning alongside numeracy, literacy and broad academic knowledge; making access to nature a part of the education program through various awards and courses; investing up to £75 million in a National Scholarship Scheme to support disadvantaged students to continue to pursue green education including degree courses or apprenticeships; supporting workers to retrain and upskill for the green economy; and providing support and guidance for young people to understand more about green careers.
Education is also a part of the Government's 25-Year Environment Plan; forming part of their goal of 'connecting people with the environment to improve health and wellbeing' is a focus on 'encouraging children to be close to nature, in and out of school'. This can take many different forms, and the Government's plan suggests a range of measures, including expanding forest school provisions, implementing fieldwork into the science and geography curriculum, and partnering with farms to share knowledge about food and where it comes from. Furthermore, their Nature Friendly Schools programme, for which Groundwork was a partner, is dedicated to developing teacher's confidence and ability to enact outdoor learning as well as providing support to schools in disadvantaged areas to create nature friendly grounds.
It is a positive step that these issues are being formally addressed by Government. The breadth of the strategy is indicative of the need for climate education to become a core part of all sectors. Their plans, if executed effectively, are a promising and important shift towards a society-wide culture of climate awareness and protection. Moving forward, the Government must ensure that the measures and schemes being brought in are truly universally accessible because everyone must be equipped with the knowledge to live in a world being affected by climate change. Furthermore, children, young people, and adults from disadvantaged backgrounds must be given the tools to actively participate in, and reap the rewards of, a green economy.
Children and young people need dynamic and informative education about climate and the environment. Between being bombarded by news media about environmental catastrophes and all too often given the minimal education about climate change and its contributing factors, the realm of climate change can be very difficult to navigate. Comprehensive climate education that connects children and young people to the natural environment has never been more important; they need to feel empowered to step out into the world and make a difference. The education system plays a key role in guiding children and young people towards their future career paths – it's no coincidence that so many young children proudly proclaim they are going to be teachers when they grow up; they want to emulate the careers they see as important. Children and young people must be inspired to envision themselves in roles that can make a change and to do this they must universally be given the tools to enter a green economy, and the information to begin to fathom what needs to be done.
Blog by Isabelle Norman, Policy and Research Trainee at Groundwork UK