Cadent Foundation Green Doctor
Groundwork has partnered with the Cadent Foundation to support households across the UK to take control of their energy bills and stay warm and well. 
Cadent Foundation Green Doctor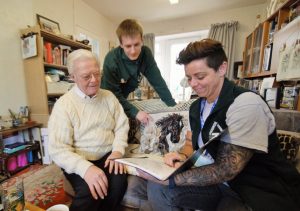 The 'Cadent Foundation Green Doctor' programme will fund Groundwork Green Doctors – energy saving experts – to provide bespoke, tailored advice to help households stay warm, stay well, save money on their household bills and reduce carbon.
The programme will run for three years from 2020 to 2023 with the overall aim of providing 9,000 Green Doctor consultations across regions of the UK with a focus on disadvantaged and vulnerable households.
Participating households will receive a detailed consultation from a Green Doctor (delivered remotely or in person, dependent on an assessment of risk, need, and Covid-19 restrictions), which will combine energy saving advice, referrals to other local support services (e.g. debt advice, food banks), and the installation of small energy saving measures.
Request a Green Doctor Referral 
---
Find out more
The programme is delivering in specific areas and towns of the below regions.
---
Get support
To find out if you are eligible, please complete the above referral form. You can also refer someone who you think could benefit from energy efficiency support.
---