Lucy, was enrolled on Progress since April 2017 and has been working with her Progress Coach to achieve her dream of running her own dog grooming business.
---
"I wanted to get involved when I found out Progress offered one-to-one support; something that I hoped would help build my confidence as well as helping me to get a job.
"I've always wanted to work with animals, so I was really pleased when my first work experience placement was at my local pet shop. On the first day, I was really nervous so my mum came to the door with me, but the staff were very nice and welcoming.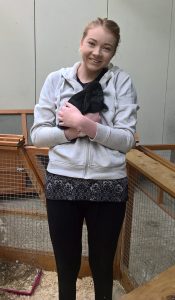 "I helped to clean out the rabbits, guinea pigs and birds and fed the reptiles. One tip I learned was that you should always pick snakes up before you feed them. It was so lovely being with all the animals and having regular cuddles! I also worked on the shop floor and tidied and priced up items which helped me to develop my retail skills.
"I've regularly been working with my Progress Coach, Lauren, to contact potential employers and build up my qualifications as well as my confidence. I've recently sat my Level 1 English exam and I am currently working on my Maths which I know will help me in the future.
"I've recently arranged a long-term work placement with a local dog groomer where I go around three or four times a week – I love it! My overall dream job would be to run my own dog grooming business.
"My main obstacle is my nerves and anxiety – but I'm growing in confidence every week and I feel more confident dealing with people than I did before. Progress has shown me that I can do a lot more than I thought I could. I definitely see a more positive future."
---
Find out more about how Progress can help you.