"You used to be able to get these little notebooks and they used to have figures that you could draw the outfits on and I was like, yeah this is my thing.
"If I was a fashion designer, I want to be up there with Alexander McQueen and known for doing something incredible. For someone to say 'that's Megan's work'.
"Well, that's the thing that anyone really wants.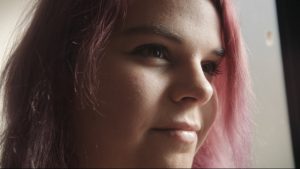 "I really wanted to do a fashion styling course but I was hanging out wrong people and got involved with the wrong things, drugs and stuff. You think you're all up for it until you end up having your parents get the police involved because you've gone missing.
"With having severe depression you don't think of your future as you don't have a future at that point. You think what's happening to me? Why am I changing? It affects everything really. You're drowning but everyone else around you is swimming. It's painful when no one understands you.
"It was on the BBO course where it all changed. My relationship with Carla is great because she doesn't judge me. I trust her. We have mentoring sessions so we would discuss daily life problems and how to manage situations like dealing with my emotions and helping me understand them.
"It wasn't like school or like college. We did a lot of motivation work around resilience and you have a careers advisor. It's just been fun. It's helped me come up a plan for my future. Towards the end of the course, I actually thought if I can do this and I can do my fashion styling course.
"And that's when it clicked.
"It has changed my life dramatically in a really good way. There's been plenty of times when I've genuinely felt like I'm pretty useless and then when you realise how far you've improved and it gives you hope really, it really does it gives you hope and faith that you can do anything you want to do.
"I'm doing this for my family and I'm making them proud."
---
Find out more about how Progress can help you.