Abdulai, 18 moved to Coventry in 2016 from Sierra Leone. In the past year, he has been working with his Progress Coach, Kuldip, to make a better life for himself and achieve his dreams of becoming a doctor.
"I joined Progress earlier this year. My mum had found out about the Breakthrough project [another Building Better Opportunities programme] for herself and Progress was recommended to me.
"Before joining Progress I didn't have any confidence or any friends. I saw myself as nothing. But the more I got involved with the programme the more my confidence grew.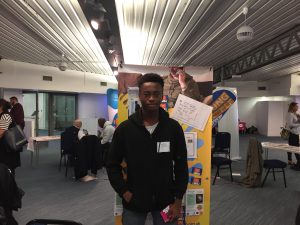 "Miss Kuldip has helped me involved in loads of projects. I've been on a residential in Wales where we went swimming as well as other outdoor activities. I've never done anything like that before – it was fun! When we practised the indoor climbing I managed to get right to the top of the wall which really surprised me. It was a great feeling.
"I'm pleased with how much I'm learning. I've recently joined City College which I'm really enjoying. On my first day, I definitely had more confidence that I would have if I hadn't worked with Miss Kuldip. I gained qualifications in Sierra Leone but they were different to GCSE's so I'm currently doing my Level 1 and 2 English and Maths. Eventually, I want to go to University and train to be a doctor.
"Before I came to Coventry I knew a little English but I've been working hard to learn and improve my English language. When Miss Kuldip texts me she never abbreviates the words so I can practice my spelling!
"I love dancing. In one of the activities I took part in, other young people had to write the words that best describe me and 'amazing dancer' was one of them. There were other words and phrases like 'hardworking' and 'resilient' but my favourite one was 'always makes others people smile – I like making people happy.
"I would definitely recommend Progress to other young people that need help. You never know what's going to happen with life and since being involved in Progress my life has changed completely."
---
Find out more about how Progress can help you.