Supporting Londoners – 6 ways we promote wellbeing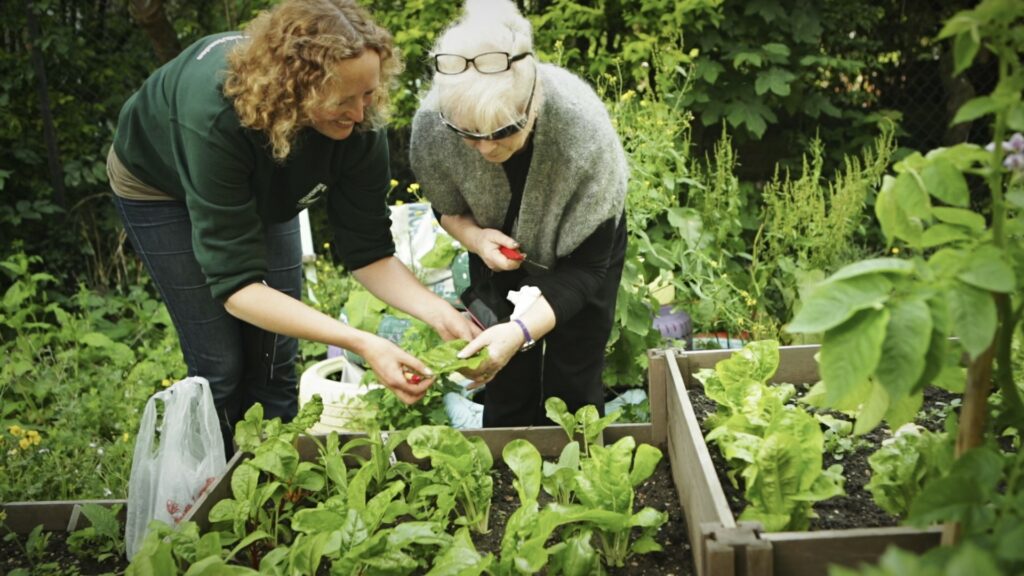 Groundwork London works with communities across the capital to transform their lives and the places they live. Being at the forefront of social and environmental regeneration for over 25 years means we have a simple mission: to create better places, improve people's prospects, and promote greener living and working.
People's prospects across the city can be dependent on certain factors that we seek to improve in our programmes spanning Youth, Employment, Social Enterprise, Communities and Grants. We are passionate about creating a future where every community is strong and able to shape its own destiny, and no-one is held back by their background or circumstances, and mental health plays a key role in our work on the ground.
The link between social and environmental regeneration, and promoting positive mental health is significant throughout our work on the ground. On mental health day we look at our projects making all sorts of impact to encourage positive mental health through experienced support in unique ways, which in turn help build resilient communities and environments across London.
1. Supporting young people's wellbeing
The Nest Southwark provides a service to young people at the point of need in their wellbeing experience. The Nest provides young people and families with the opportunities and tools to enable them to develop their physical, emotional and social capabilities through counselling group work and peer mentoring.
The Trusted Youth Allies is supporting adults with training to help young victims of crime in London feel heard, supported, and empowered to thrive. This improves the prospects and wellbeing of young adults in vulnerable situations.
2. Fighting job and financial insecurities through employment support
Groundwork London's employment programmes support people into work. Good career prospects can contribute to positive mental health by building morale, motivation and self-belief, as well as salary expectancy.
As experts in green space regeneration, our Green Space Skills Hub brings work in horticulture to the forefront showcasing job roles and opportunities that connect employment prospects to environmental impact. Purposeful work has proven to boost value, connection and overall wellbeing.
3. Helping Londoners save on their energy and water spending for greater peace of mind
London's Green Doctors know there are little things less vital to Londoners wellbeing than a safe, warm home, especially during challenging periods. Green Doctors have been helping households in London save money, stay warm and improve energy efficiency at home. Their personalised energy advice can help build a sense of security, aiding anxieties around bills and issues with housing.
Similarly, our Thames Water programme gives Londoners advice to reduce water leaks, and support families and individuals in London to have a safer home with lower water bills.
4. Promoting a holistic approach to health with social prescribing
Many things affect your health and wellbeing and our Social Prescribing team help signpost people to alternative routes to improve their health and wellbeing beyond doctors and medicine.
Studies show that patients with social prescriptions get better and feel better faster than those treated with medicine alone. And because it works, it's happening more and more. For more information about how to find a social prescribing scheme in your area please email: england.socialprescribing@nhs.net.
5. Offering volunteering opportunities to enhance confidence and wellbeing
Volunteering is a great way to connect with other people and develop skills which can be very rewarding and a means to boost mental health. According to a 2017 research study, adults over the age of 55 who give their time for others have an easier time with everyday tasks, and volunteers experience 250 percent less cognitive decline leading to dementia.*
Groundwork London delivers services in Barnet and Kingston, and hosts a Corporate Volunteering offering where colleagues can come together for a useful, wellbeing initiative and work on one of our various green space projects in the city to help "Making the world a better place".
6. Funding community projects that strengthen social connections and access to nature
Groundwork London delivers over 25 grants in London. Getting funding for an initiative that matters to you can give you purpose and help to deliver wider impact in your local community. The Our Space Award grant delivers grants to projects to improve green space opportunities to communities. A resident from Grove Park Community Group had this to say about the grant project they took part in during 2021;
"It's been amazing to be (a small) part of the process, from being part of the planning conversations, to being able to help volunteer with some of the actual work as a family, and part of the community. Having a disability and being limited to how much physical work I can do can be disheartening, but I have always been made to feel welcomed and valued when I have been up to help. We moved to South London 10 years ago and the project has helped us feel bedded into the community, and make new friends."
Get support
If you'd like to get support or connect with any of the projects above, please get in touch.
The Nest Southwark: thenest@groundwork.org.uk
Trusted Youth Allies: info@trustedyouthallies.org
Green Space Skills Hub: greenspaceskillshub@groundwork.org.uk
Green Doctors: GreenDoctorsLDN@groundwork.org.uk
Thames Water: london.shv@groundwork.org.uk
Social Prescribing: england.socialprescribing@nhs.net.
Volunteering Barnet: enquiry@volunteeringbarnet.org.uk
Volunteering Kingston: enquiry@volunteeringkingston.org.uk
Grants: Grants@groundwork.org.uk
References:
Every year we celebrate World Mental Health Day on 10 October. The theme for 2023, set by the World Foundation of Mental Health, is 'Mental health is a universal human right'. (https://www.mentalhealth.org.uk/our-work/public-engagement/world-mental-health-day#:~:text=Every%20year%20we%20celebrate%20World,change%20for%20everyone's%20mental%20health.)
​​https://www.trustbridgeglobal.com/blog/2021/1/25/5-reasons-volunteering-is-good-for-you?gclid=Cj0KCQjw7JOpBhCfARIsAL3bobcQUB-KZKXdleAxkpeFYwzAKvVS2ZcCv0bF1WXJBVBRo2dLQrBVnmEaAopeEALw_wcB