Community Hub Recognised As COVID Hero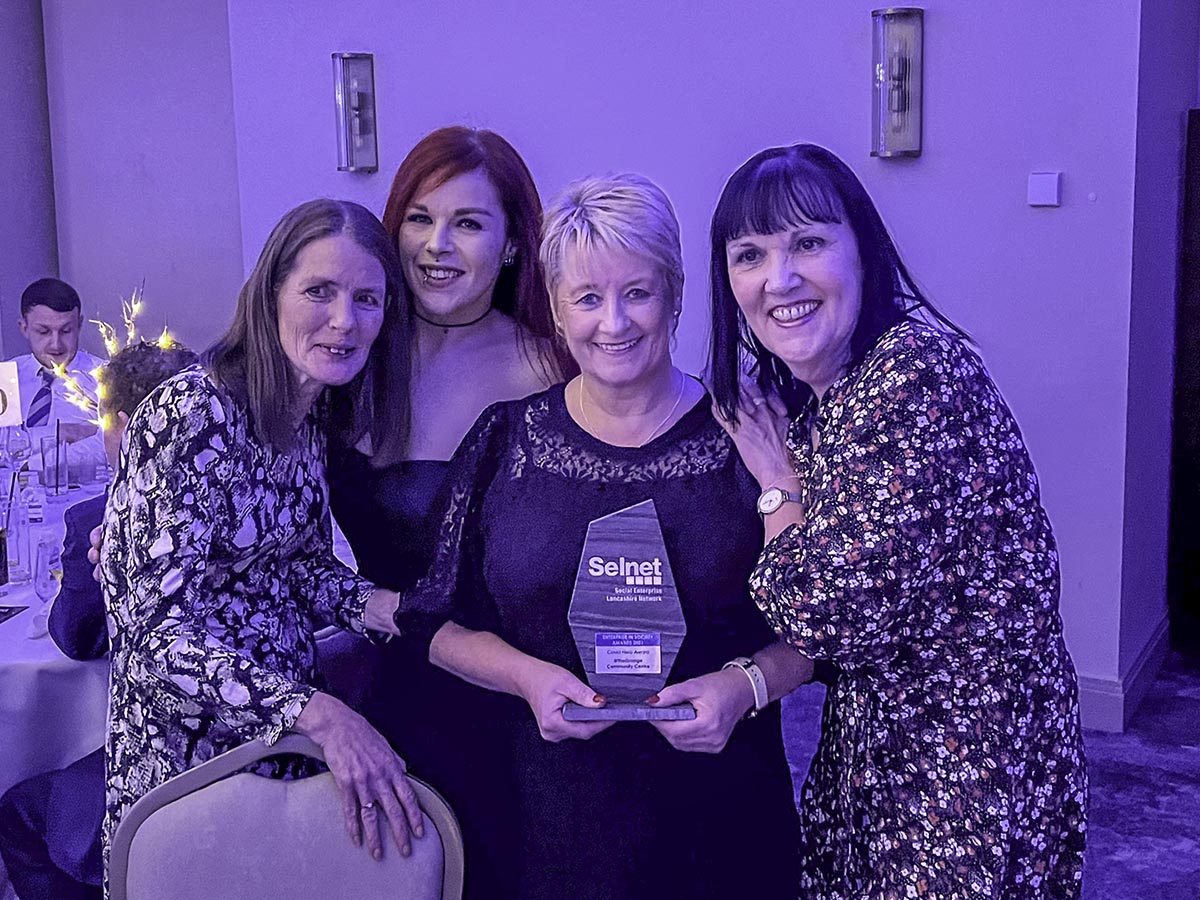 A community hub in Blackpool has won a 'Covid Hero' award.
@TheGrange, in Grange Park received the award at the Selnet Enterprise in Community Awards, which were recently held in Burnley.
The award recognises the vital role continues to play throughout the pandemic. It has kept people connected and provided vital support for vulnerable residents when they've needed it most.
@TheGrange is run by Groundwork on behalf of Blackpool Council. At the start of the first lockdown, it became one of 13 Corona Kindness Hubs across Blackpool. Since then it has provided emergency food and medical supplies and welfare checks for vulnerable residents in one of the UK's most economically deprived areas. It has provided advice and practical support for people who have no-one else to turn to. It has also kept people going and given hope to many facing a lonely and uncertain future.
Making A Difference
Powered by a team of 30 local volunteers, @TheGrange delivered over 3000 food parcels during the first lockdown alone. It continued to make a massive difference to people's lives:
Making 3500 welfare calls, with weekly checks for isolated residents
Delivering 1953 affordable, nutritious, freshly cooked 'Meals On Wheels', including Christmas day
Providing 350 warm home packs
Helping residents reduce energy costs by over £12,500 and receive emergency grants
Providing 1040 meals to combat holiday hunger
Organising 35 housing repairs
Supporting people to complete housing and benefit applications
Providing emergency support for residents leaving hospital and emergency accommodation for homeless residents
Making 55 referrals to support agencies
Supporting victims of domestic violence
Helping elderly residents not online to book Covid vaccinations, or receive home vaccinations
Supplying 5 residents with mobile tablets and internet access
Supporting 2 people into work
Creating a resident's support group and youth focused support groups, including mental health and music production.
Cath Powell, who works for Groundwork as the Development Manager at @TheGrange said:
We are delighted to receive this award on behalf of everyone involved with @TheGrange. This has been a real team effort. Staff from Groundwork, Blackpool Coastal Housing, Neighbourhood Police, Blackpool Council, alongside our local volunteers, have all worked brilliantly together.  If there is one thing that this pandemic has taught us – it has been the importance of sticking together and supporting each other.
With many staying at home to protect themselves and their families, @TheGrange provided outreach activities to keep people connected within the community during periods of extended isolation:
755 Easter eggs distributed to local children
100 cream teas delivered to elderly residents
A 100th birthday celebration organised for one local resident with no family
An online Remembrance Day service
A virtual Christmas Light switch on, broadcast on social media
A Santa Clause tour of the community for local children
Quizzes and puzzles delivered to residents' homes and posted online
Providing residents with seeds, equipment and advice needed to grow food at home.
@TheGrange coordinated a Blackpool 'Summer of Fun' campaign. The campaign created and shared 88 videos containing ideas of free, safe, fun, local activities families could do together during school holidays. They received over 100,000 views.
In partnership with Blackpool Council Public Health, @theGrange created a 'COVID In Our Communities' group, creating and sharing accurate messages to minimise virus transmission and raise public confidence in the vaccination process.
Many residents say they wouldn't have survived lockdown without the support of the team at @TheGrange. The pandemic has demonstrated the importance of community spirit and cohesion during difficult times. It has also cemented this amazing community hub's place in the hearts and minds of people living in Grange Park, Blackpool.  It truly has become the heartbeat of this local community.