---
Project: Grow @thegrange
Location: Blackpool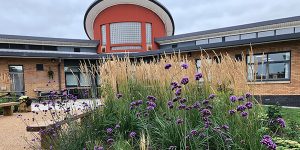 After years of living with severe depression, Tom Cunningham is finally starting to feel better about himself and life in general. He puts it all down to volunteering at a local community garden.
Tom, who is originally from Ireland, has lived in Blackpool for over 20 years. After a back injury affected his ability to work, Tom became long-term unemployed. Being out of work affected Tom's self-esteem. At first he couldn't afford to socialise. As his confidence ebbed away, he stopped wanting to go out and became increasingly isolated.
I had no friends, I wouldn't talk to anyone. The only people I ever talked to was to say hello to the shopkeeper.
The turning point for Tom came when he heard about a community food growing network called Grow Blackpool, which is managed by Groundwork and funded by Blackpool Council Public Health. It runs regular sessions at community growing sites across Blackpool where people can come along and not only learn new skills and make new friends, but also improve their health and well-being.
Although he'd had no previous interest in gardening, Tom liked the idea of meeting new people and learning some new skills, so he decided to give it a go. That was over a year ago. He now enjoys it so much that he takes a tram and a bus twice a week to make the three mile journey from his home to Grow Blackpool's community garden the @thegrange community centre, whatever the weather.
I don't know what's going to happen in the future. I just love that I'm volunteering. It's like a job to me. They always ask me: when are you coming back? Because we need you. It's positive to me, that I'm part of the team.
Grow @thegrange
@TheGrange is run by Groundwork on behalf of Blackpool Council and offers opportunities for local residents to learn new skills, meet new people and improve their health and wellbeing.
The facilities include shops, a library, a cafe, a community farm, a theatre, meeting rooms available for hire and a gallery. It was officially launched with a Family Fun Day that included a bouncy castles, circus skills, dance and drumming workshops, a DJ and children's entertainment.
Grow Blackpool sessions are held regularly in the garden teaching people how to grow fresh food for themselves.