NEWS: Groundwork community projects to benefit from crowdfunding campaign
Groundwork projects are set to benefit from crowdfunding campaign that will allow more people to get involved in food growing and horticulture.
---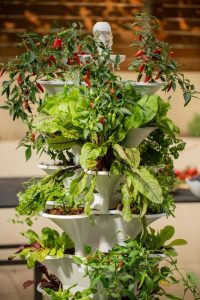 Acqua Garden – a vertical growing system that allows people without access to greenspace to grow fruits, vegetables and herbs – have started a crowdfunding campaign to ask people to buy a system to be donated to Groundwork projects across the UK.
A Groundwork project in London – an intergenerational sheltered housing initiative in Tottenham that encourages and teaches residents about the benefits of food growing – has already benefitted from a garden which will enabled older users with mobility issues to use the system, as well as engaging children with food growing.
SARAH REECE-MILLS, DIRECTOR OF PARTNERSHIPS AND PROGRAMMES AT GROUNDWORK, SAID:
This is an exciting partnership that will go a long way in supporting local Groundwork projects to give people with limited access to greenspace the opportunity to learn and benefit from food growing.
JONATHAN MARTIN, CHIEF EXECUTIVE OFFICER OF ACQUA [SYSTEMS LIMITED], SAID:
I am delighted to be working with Groundwork, and am looking forward to partnering to deploy the Acqua Garden across a range of projects. This product has been designed all around inclusiveness – to enable anyone, anywhere to garden. I look forward to working with Groundwork for many years to come.
The crowdfunding campaign is due to run until mid April 2020. To donate an Acqua Garden to charity or find out more, please visit the crowdfunding page.
---
NOTES TO EDITORS
For further information, please contact media@groundwork.org.uk or call 0121- 237-5815.
ABOUT GROUNDWORK
Groundwork is a charity working locally and nationally to transform lives in the UK's most disadvantaged communities. We're passionate about creating a future where every neighbourhood is vibrant and green, every community is strong and able to shape its own destiny and no one is held back by their background or circumstances. We help people gain confidence and skills, get into training and work, protect and improve green spaces, lead more active lives and overcome significant challenges such as poverty, isolation, low skills and poor health,
ABOUT ACQUA SYSTEMS LIMITED
Acqua is a UK business which has developed a range of innovative vertical growing systems. The Acqua Garden is a fully automated, self-watering high density growing system designed for ease of use and can be set up virtually anywhere. It is simple to set up, runs on a battery or solar power, and can grow up to 72 plants at once. The Acqua Garden is modular and the tower rotates, making it highly accessible. Acqua is committed to enabling the widest range of people to have access to gardening and growing, and to providing useful products with strong sustainability credentials. www.acquatower.com. For further information, contact info@acquatower.com