I'm Helping To Make My Hometown Greener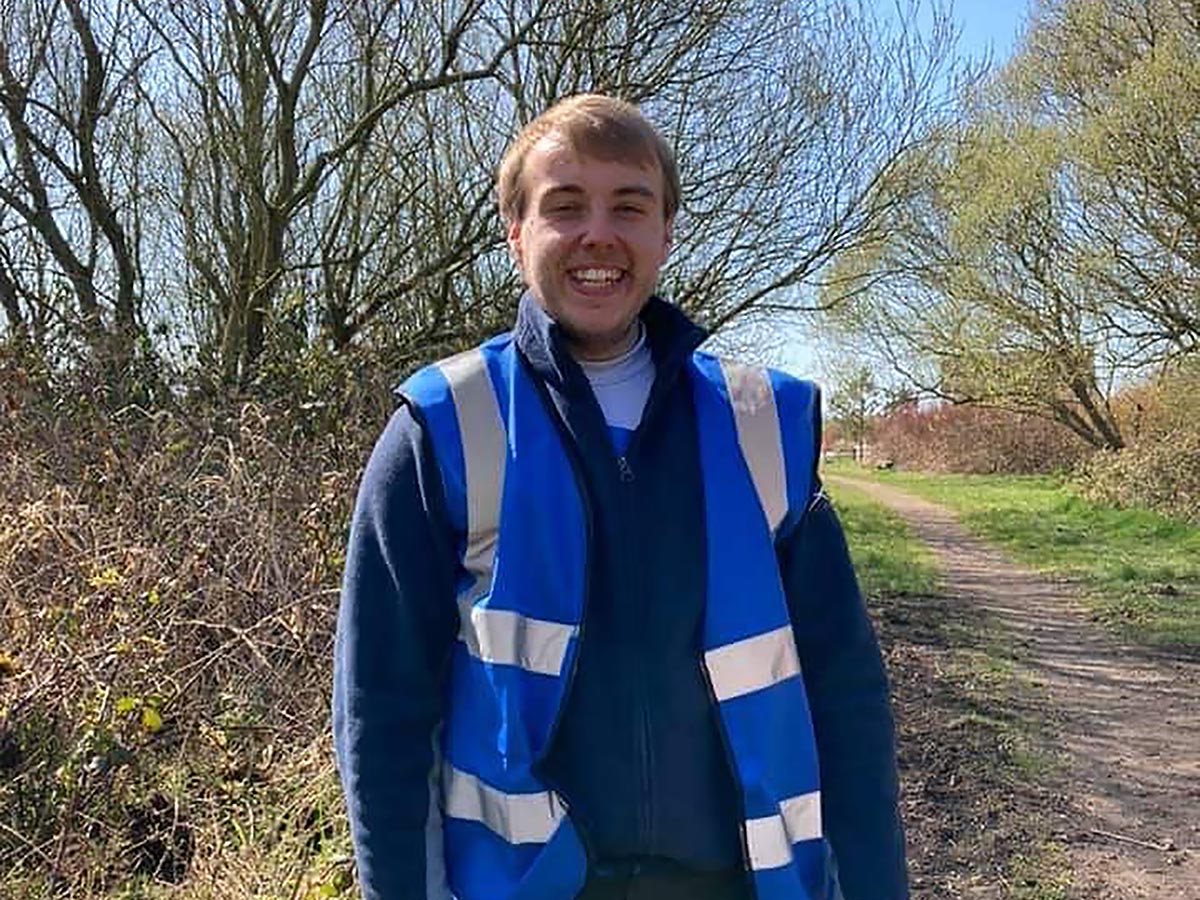 Arran had always loved being outdoors. From an early age he decided that working in an office wasn't for him. After years of study and volunteering, which he still does, Arran now works for Groundwork doing something he loves – conservation. Better still, his role gives him the chance to make his hometown a greener place to live and work in.
Here is Arran's story in his own words.
The outdoor life for me
My interest in the outdoors started through my involvement in Bowland Pennine Mountain Rescue team. This is still is a massive part of my life and lots of my family and friends are also involved with this amazing organisation. I always knew I wanted to work outside, but just wasn't sure how to go about it.
Working 9 to 5 in an office is literally my worst nightmare.
I applied to Edge Hill University to study conservation. I knew that as I am not academically minded (and that's putting it lightly) I would need as much real life experience as possible, to make up for this. I went to a University volunteering fair and stumbled across a local nature reserve called Gorse Hill. I started volunteering in October 2017 and never really looked back. I started spending every spare moment I had up there. I cleaned and made bird boxes, maintained footpaths and did tree thinning. I also had the chance to set up and run a social media campaign for the reserve, improving awareness across the local community.
The longer I stayed there, the more I learnt and the more responsibility I was given. My favourite part was organising bird and small mammal surveys. I enjoyed the surveys that much, over the summer of 2019, I was accepted by Operation Wallacea to become a research assistant in Cusuco National Park, Honduras. I was able to further improve my surveying skills by working within the habitat team, assessing how tree density is altered by succession within the rainforest.
I've always believed you should never stop learning.
After University
I graduated during the first lockdown in 2020. It was really difficult to find any sort of job, so like lots of other people at that time, I had a period of unemployment. Interviews for roles were few and far between and I have to admit I really struggled during this time. I decided to start an online diploma in Advanced Forestry Management. As well as keeping me busy over lockdown, I've always believed you should never stop learning. I also knew it would give me some broader knowledge beyond my degree, as I wanted to specialise within the forestry sector.
I applied for and was offered the role of as an Assistant Project Officer in the Community Forest Trust, based in Manchester. It was a fantastic starting point and helped me expand my knowledge of tree physiology and tree ID. I came across lots of amazing organisations in Manchester; one of which was Groundwork in Manchester, who we often worked with. Having spoken to employees from Groundwork Manchester, I realised just how varied their work was, from tree planting to bridge making and everything in between. One of the downsides of the conservation sector is the constant uncertainty around funding. With funding for my role running out, I needed to start looking for another job.
Joining Groundwork
It was at this point that I came across an advert for my current role – Conservation Project Officer. Having had such a positive experience with Groundwork employees previously, I thought – why not apply? The added bonus was that if I got the job, I'd be able to play my part in helping to make my home town of Blackpool a greener place to live in. I was invited to my very first in-person interview. After getting over the shock of not meeting people via a computer screen; I thought everyone seemed really warm and welcoming. To my delight I was lucky enough to be offered the role.
I honestly love my role. The work is just so varied.

Making a difference in the community
Due to my previous experience, I have been tasked with setting up a community led tree planting programme across Blackpool. This involves working with the council and various organisations across Blackpool. I also work on the North Blackpool Pond Trail and the Love My River project; managing volunteers and running various activities across the two projects. I honestly love my role. The work is just so varied; one week I could be surveying a river, the next I could be making a wildflower meadow and mending a footbridge. There is never a dull moment and all the Groundwork staff have so supportive and welcoming, which helped me settle in quickly.
If you want to learn more about conservation or get involved in projects, there are lots of opportunities here at Groundwork.
Get involved
If you want to learn more about conservation or get involved in projects, there are lots of opportunities here at Groundwork. Just check out the Groundwork website, or even message us via social media. Volunteering gave me a brilliant opportunity to meet new people, learn more skills and improve my local area. Its incredible rewarding, and can provide an excellent routine for anyone struggling to get back into the community after lockdown. For any budding conservationists, voluntary experience is also fundamental in getting into the sector.
Green jobs are important
We need to make as many people as we can aware of the ever imposing climate crisis and protect and maintain our green spaces.  This job has given me a platform to educate others and to inspire them into careers within this sector. I also love the fact that I get the chance to make Blackpool a greener space, which will better serve the health and wellbeing of the local community.
Find out more
You can find out more about the projects Arran is ivolved in by visting North Blackpool Pond Trail's webpage, Facebook, or Instagram pages.
Sign Up to the Groundwork CLM newsletter