Remember Me? The green-space given a second chance in Kirkholt
The deciding component in what makes a fantastic community space are the outcomes that surface from it, rather than the actual space itself. In Kirkholt, community feedback from our latest project at Rhodes Ravine speaks volumes for the newly transformed green-space, something local residents had spent years calling out for and was made possible by our work with the Kirkholt Millions Partnership and funding from Local Trust.
2-3 minute read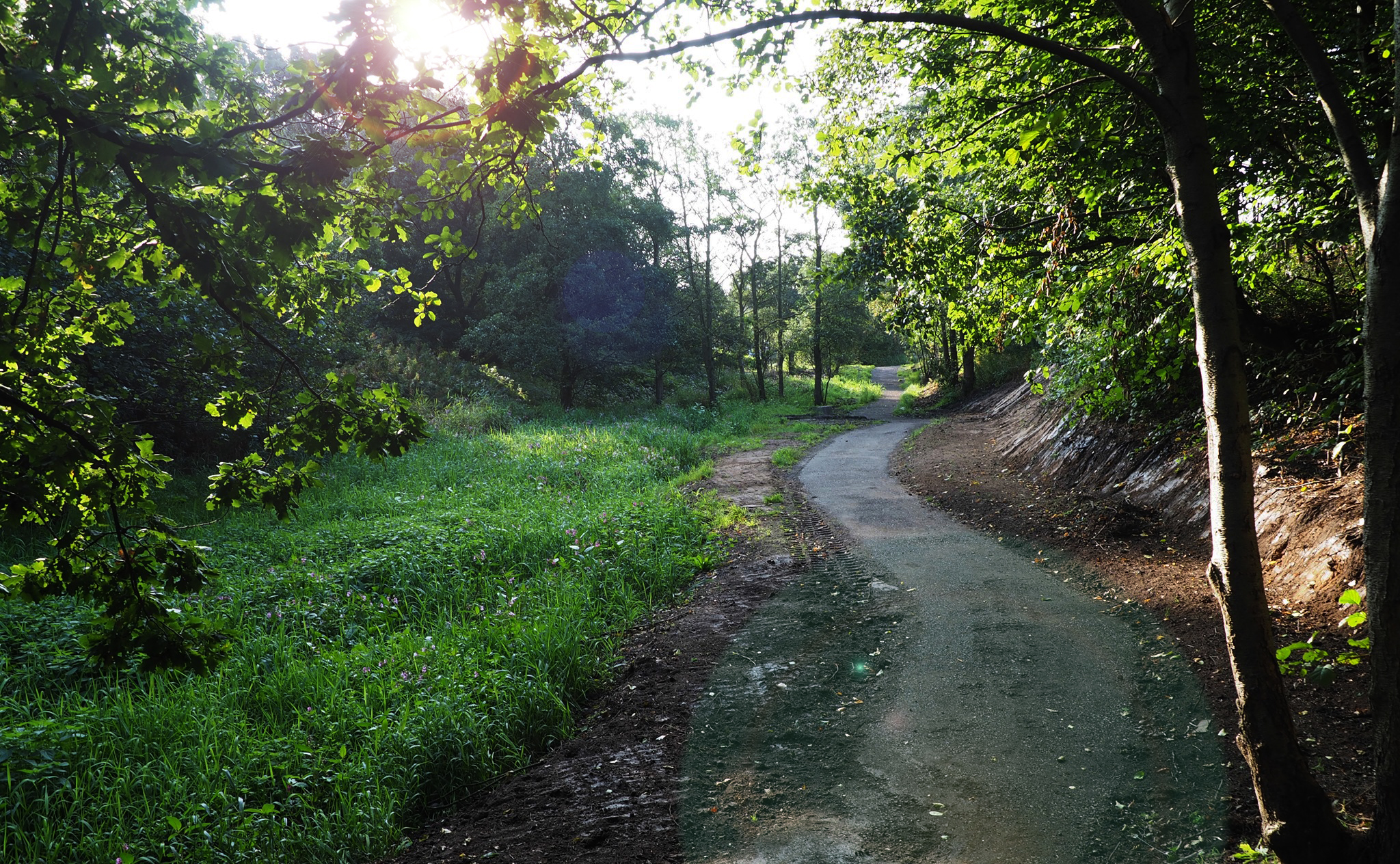 Positive outcomes are based off many factors, some of which are built from the process that goes into creating the community space. The physical regeneration of Rhodes Ravine was in fact a secondary goal and from the outset, the primary objective was always to focus on the training and employment of local residents from the Kirkholt area, leading to eventual employment opportunities and the foundations for a better life.
Creating Opportunities
Groundwork believes that every community has the ability to develop the skills and capacity needed to allow it to thrive for years to come. It's well known that by finding avenues to stimulate your brain, you increase the likelihood of living a much healthier and happier life, but unfortunately not everyone has access to these opportunities. For Estate Ranger Phil, getting involved in this particular project was the perfect opportunity;
---
"Before gaining this opportunity I was stressed, tired, and basically a fed up delivery driver. Then the chance to gain my new role on the housing estate where I live gave me the opportunity to do something I enjoy and could be proud of; reviving a disused woodland."
Phil continues – "Before the project started, I don't recall many people walking through the woodland due to it being more or less inaccessible. But one year later, we have many people from different backgrounds travelling through – some just for a walk, others to revive old memories from their childhood." 
---
Supported by Groundwork's experienced landscapers, Phil and his estate ranger team were able to not only build their confidence and stimulate their brain, but enhance their employment prospects. A key aspect of the project included specific training in horticulture, construction operations and countryside skills, leading to accredited qualifications.
With the community directly embedded in the project, the Kirkholt Rangers project will benefit residents on the estate by seeing improvements to their local area, as well as having an additional resource that can help maintain the estate throughout the life of the programme and beyond. 
Key Features
The COVID-19 pandemic has changed the relationship we have with our natural surroundings. For some, it refuelled the fire to get outside and explore, for others it was the beginning and something special, many felt that green space was providing a new basic necessity to everyday life.
Our appreciation for local green space has grown, and with it exposed those who struggle most to access it. One fundamental facet of the Kirkholt Rhodes Ravine project was to ensure every person within the community, ability aside, had access to it on a daily basis. The team connected open space in the area to an existing park, allowing an expanded circuit for walkers and complimented by a crushed stone path that unlocked a truly attractive part of the ravine.
Alongside this, estate rangers carefully cleared and expanded the ravine itself, which stood unsafe and inaccessible for a number of years. In celebration of this great achievement, a stone bridge was built as a focal point for the community to use as a shared space.
In original consultations, local residents were keen to ensure a variety of attractions could be found when visiting. Nature trails, sensory and edible planting as well as wildflowers to attract birds and bees were all put forward. Furthermore, benches and 'natural' paths were desired in an attempt to encourage older members of society to benefit from the refurbished green space too. 
Outcomes
The outcomes for this project depend on the circumstances of the individual, but as a collective it has shaped the pathway for a new, green future Kirkholt can be proud of.
For many, it unearthed memories of the past, dancing along the ravine and playing amongst the trees. For some, it shed light on opportunities for the future; nature trails and events for young people, many of which are the children of those who used the same woodlands 38 years ago. 
The project has provided much motivation for locals to better themselves, stemming from our goal to get at least three residents into sustained employment. As our time here will subsequently draw to a close, the legacy lives on. Embedding the local community from the start means the Kirkholt Partnership has a reliable network of committed people to take care of their green space for the long term.
---
If you would like to learn more about our neighbourhood projects,
Get In Touch