Get Social!
Fundraise for local Groundwork community projects as part of your social wellbeing focus in August to help reconnect communities, bring people together and reduce loneliness.
Offices and depots across Veolia will be focusing on social wellbeing throughout August.
Here at Groundwork, social wellbeing is something that sits high on our agenda. We know how important it is to have a sense of belonging and to feel part of a community and we've seen first-hand the wonderful things that can happen when people come together. It's why we work on some amazing projects across the country to reduce social isolation and improve people's wellbeing. 
---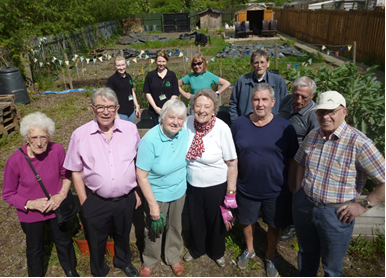 Our wonderful Fancy a Brew project that is being supported by Veolia colleagues through their fundraising is just one example of our work in communities to bring people together and make a real positive difference in people's lives – and just shows that something as simple as a cuppa with friends can have a big impact on your wellbeing.
Another amazing project supported by Veolia colleagues is our Green Links project which brings people with memory problems and their carers together through gardening and nature activities to give them an opportunity to connect with others, improve their confidence and feel less lonely.
We all know how important our social wellbeing is after experiencing lockdowns and social distancing over the past year. It's so important to reconnect and our community projects need your support now more than ever before to bring people back together.
---
That's why we would love for you to come together with your colleagues on your social wellbeing day to have fun, spend time with each other and raise funds for local Groundwork community projects at the same time!
How you choose to do that is up to you and we would love your teams to get creative but we've got a few ideas to help you out:
Do you fancy a brew? Our Fancy a Brew project proves first-hand the impact of a good cup of tea and a catch up with friends! Get your colleagues together for a cuppa and a slice of cake. You could hold a bake sale or do this via Zoom, donating the cost of tea and cake!
Get outdoors! We know how much getting out in nature can boost your wellbeing. Does your office have an outdoor space in need of some TLC? Bring colleagues together to get hands on with some gardening or ask everyone to bring in a plant to hold a plant sale.
Host a Crafternoon! Do you and your team have some skills they could share? Host an in-person or virtual crafternoon to get colleagues involved in some crafting together! Ask for a donation to take part!
Get competitive! If you've got some exciting plans for your social wellbeing day, add in a few fun or competitive activities to raise funds at the same time. Guess the number of sweets in the jar, hold a raffle, a welly wanging competition, or guess the name of the teddy. Get creative, there are loads of great ways to get everyone involved!
---
We would love to hear your plans! We also have Groundwork donation boxes and bunting we can provide to help you with your fundraising on the day so please do get in touch fundraising@groundwork.org.uk and let's get your plans underway!
You can choose a local project to support here where you will also find each project JustGiving page where you can make donations or pay funds in.
Thank you so much for your support, we can't wait to see what you do!