Big Energy Saving Week 2020

Since 2008, our Green Doctor service has offered free independent energy advice. Now we are now expanding our service to cover Tees Valley too.
Winter is upon us, and as temperatures drop the coldest days of the year produce the greatest number of deaths. Thus, the urgency of helping people save on their heating bills so they can keep warm and well, becomes important in every neighbourhood across the UK.
There were an estimated 23,200 'excess winter deaths' during the winter of 2018 – 2019 in England and Wales. Excess winter deaths particularly affect people aged over 65 years of age. The population in the UK is getting older, with 18% aged 65 and over, and 2.4% aged 85 and over.
The Green Doctor's team visit around 2,000 homes each year across the Yorkshire region. We help households to save between £100 – 1000 per year on their energy bills through switching and increased energy efficiency, in our aim to make homes warmer and healthier.
Each year our doorstep service has have visited the homes of some of the most vulnerable people. We have provided tailored advice to residents and aimed to signpost users to other help and support they may be eligible to apply for.
A Green Doctor Energy Advisor home visit includes a thorough assessment of the customer's residence, such as checking for inadequate loft and cavity wall insulation, boiler and central heating systems efficiency and identifying a need for immediate financial help. The Green Doctor can install a range of free products like LED light bulbs, reflective radiator panels, draught-proofing and cylinder jackets.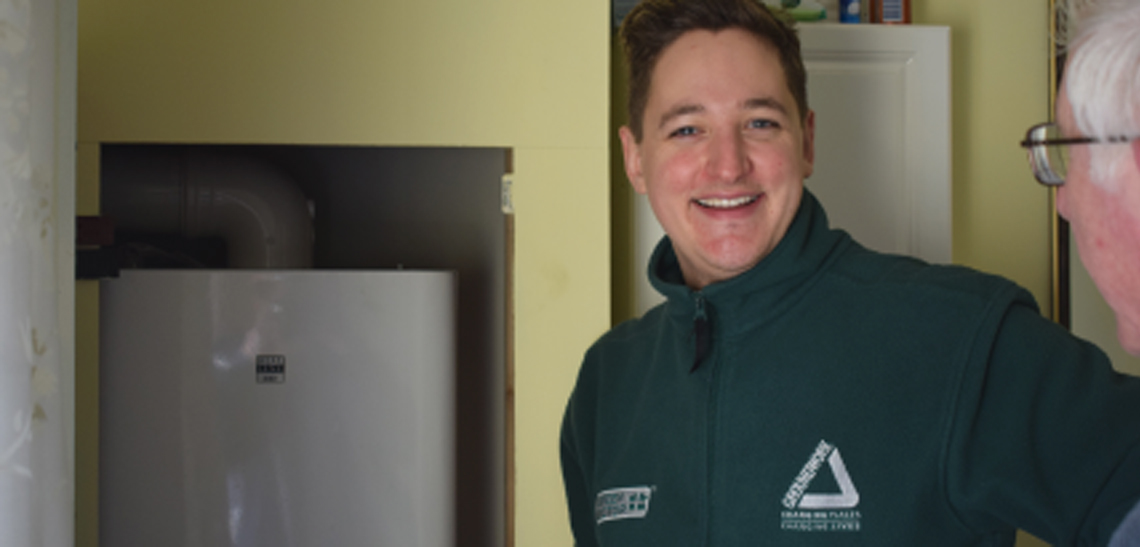 With over 12 years experience, the Green Doctor team are highly trained in dealing with the wide variety of issues that present themselves during home visits and have built partnerships with many local support organisations. For example, all our Green Doctor team are trained to identify, advise and support households with damp, mould and condensation issues.
We also provide help with grant applications, which can rise savings to around £500 – £750. Such savings help vulnerable people to be in a much more resilient position.
Now we are expanding our service to cover the Tees Valley area in the North East of England.
The scheme is open to eligible people in all types of tenure. Housing Associations, Local Councils, privately rented and privately owned residencies, are all offered the opportunity to participate in the Green Doctor initiative. The aim of the service is to provide 'assisted action' in order for people to maximise their income, and to 'empower' consumers to make informed decisions.
Our Green Doctor service saves each household on average £270. We achieve this by advising on switching energy tariffs or suppliers. We also install small energy efficiency measures in the home. We also provide help with grant applications, which can rise savings to around £500 – £750. Such savings help vulnerable people to be in a much more resilient position.
Over the years Green Doctors have gained vast experience in community engagement and partnership work. We are now using this experience to train and inform others. In 2019, we delivered over 200 community outreach events. These included our new specialised and accredited Fuel Poverty training course. We delivered this to hundreds of public front line workers including housing officers, health workers & community engagement managers in local children's centres, Jobcentres, community venues and events.
Community engagement is our expertise. We work in partnership where we can with local councils, housing associations, charities and communities groups.
We advocate on behalf of those at risk of fuel poverty by presenting to boards and energy companies. In 2019, we received a joint international CSR Award with Northern Powergrid and Northern Gas Networks. This was in recognition of the 'Comfortable Living' Green Doctor programme that takes place in Bradford.
Big Energy Saving Week 2020 is a partnership between Citizens Advice, the Department of Business Innovation and Skills, and the Energy Saving Trust. We cannot think of a better way of celebrating than by announcing the expansion of our Green Doctor service into the Tees Valley area in the North East of England. It will mean far more people saving money and more importantly, an investment in people's ability to live in healthier homes & more energy efficient environments, which will impact users life expectancy and independency at home.
We are partnering with Northern Powergrid and Northern Gas Networks for our work in the Tees Valley. For further information on this please contact Natalie Whitworth, Community Project Manager, Groundwork NE & Cumbria on tel: 01325 464 270.
If you or your company would like to know more about Green Doctor services please email: greendoctorleeds@groundwork.org.uk