Friends Of Groups around Greater Manchester
Friends Of Groups around Greater Manchester
For many years, volunteers around Greater Manchester have actively contributed to the management, upkeep and promotion of our local parks and green spaces.
In this blog, we'll be highlighting some of the fantastic groups in Greater Manchester, and share how you can get involved.
---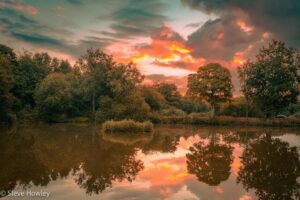 Location: Manchester Old Rd, Rhodes, Middleton, Manchester M24 4EA
Find out more: http://www.alkringtonwoods.org/friends-group/
How to get involved with volunteering: Email Cliffivers@gmail.com for more details
This nature reserve with woodlands, meadows and fishing lodges is situated in Rochdale.
Cliff Ivers, Chair of the group, told us about the volunteers that work on the space:
"Volunteers range between 4 and 12 but we also work with the Rochdale Borough Council Green Volunteers when they visit the reserve. We do woodland maintenance, tree planting, litter picks and walking guides. We also recently organised an art exhibition"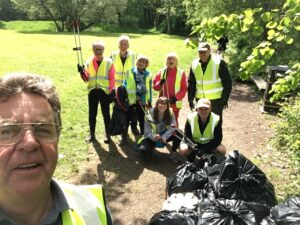 Cliff also told us about their biggest achievement so far; the restoration of Riverside Park, making it a city centre gateway to the reserve.
Friends of Alkrington Woods have big plans for expanding and improving the space with the help of local volunteers:
"We're planning a significant amount of improvement work. This will include a wetland area, wildlife pond, path repairs and signposting all of which will include some practical participation by the volunteers"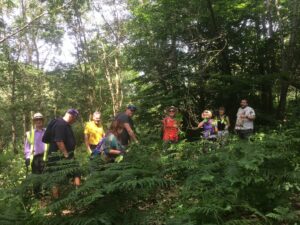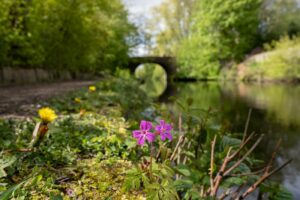 Location: Moston Brook, Manchester
Find out more: https://moston.placecal.org/partners/moston-brook-project-friends-group
How to get involved with volunteering: Contact Ann Bates by emailing ann.bates@oldham.gov.uk
Moston Brook is a green corridor which links Failsworth and Moston. This green oasis, which is great for short walks, wildlife spotting and more.
Louise Waters, secretary for the Friends of Moston Brook Group, told us more about what the space offers visitors:
"The Brook has four large areas of green space: Wrigley Head, Hardman Fold, Broadway and Moston Fairway. We are keen to make the space accessible across Oldham and Manchester districts and many of our fundraising and projects reflect this."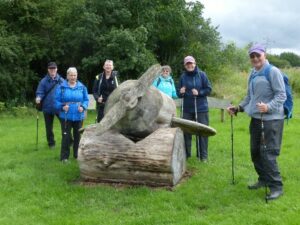 Louise also told us about the type of people who volunteer with the group:
"Volunteers are local residents, often with an interest in improving and maintaining the area for themselves and future generations"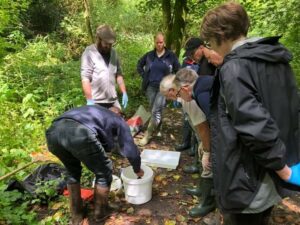 The group works closely with Ann Bates, Moston Brook Project Officer at Oldham Council, meeting monthly to discuss ideas on how to maintain and improve the space.
"We'd love to have more people at our informal and friendly monthly meetings to share their voice. If people can offer any additional support with particular projects or events near their home that would be great!"
To find out more about the group and how you can get involved, visit their Facebook Page.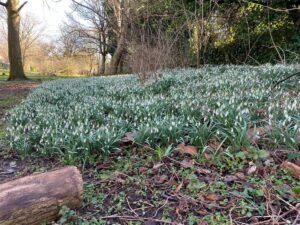 Location: Herristone Rd, Manchester M8 4PN
Find out more: https://www.facebook.com/FriendsofHerristonePark/
How to get involved with volunteering: Email gaillamb3@gmail.com
Located in Crumpsall, Manchester, this small pocket park has been run by the Friends of Herristone Park for over 20 years.
Consisting of just 6 volunteers, Treasurer Gail Lamb told us about the sort of work the group does to maintain the space:
"We hold committee meetings, liaise with leisure services, apply for grants to hold events and to make improvements in the park"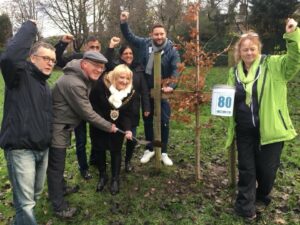 The group hold events all year round, with Fun Days in the Park events in summer, and Christmas events in the winter.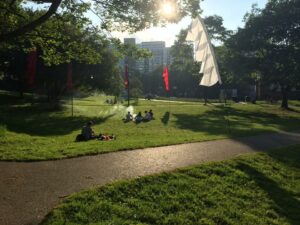 Location: Old Mount St, Manchester M4 4TF
Find out more: https://www.friends-of-angel-meadow.org/
How to get involved with volunteering: https://www.friends-of-angel-meadow.org/contact.html
Angel Meadow was an abandoned, unloved site with large historical significance in Manchester's past.
However, in 2004, Friends of Angel Meadow was set up and since then the group have been dedicated to restoring and promoting this green space.
Liz Long told us about volunteering opportunities with the group:
"Volunteer numbers vary and we are always happy to welcome new people to the group. We do gardening, litter picking, history walks and talks, website maintenance, genealogical research, advocating for the park with the council and other interested parties"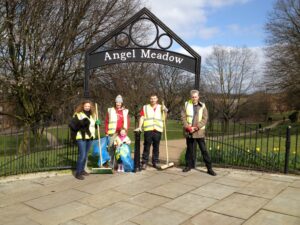 Since more people are moving into the area, due to an influx of new builds, Liz and the group are keen to get the new, local residents involved with helping create a green space which can thrive in the urban metropolis.
"We have advocated for the park and its residents during extensive new developments in the area. This has resulted in significant sums of money being received to improve the park and its surroundings. We ran a "Who do you think they are?" project researching the people whose gravestones make up our planting area. However, we are most proud of the volunteers who turn out rain or shine to litter pick and garden to make the space better for all"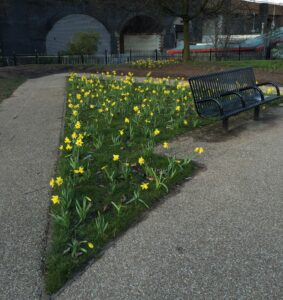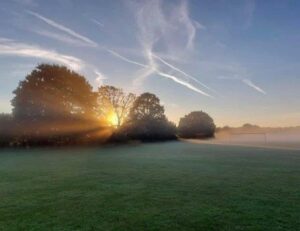 Location: 8 Turn Moss Rd, Stretford, Manchester M32 8QD
Find out more: Visit their website, Facebook, Instagram or Twitter pages.
How to get involved with volunteering: As above
Situated in-between Stretford and Chorlton, this gateway to the Mersey Valley is a section of greenbelt, surrounded by mixed tree woodlands.
The group who oversees this space consists on just 12 members; secretary Anne Russell told us about how important the recreational area is to prevent flooding:
"Turn Moss is a Flood Zone 3, it serves an important function during wet months of the year, protecting nearby properties from flooding."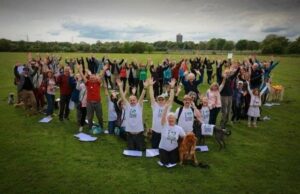 As well as raising awareness about the value of the space, the group takes part in many activities, including planting and weeding, litter picking and running community events. Anne told us about their greatest achievement to date when it came to introducing new trees to the area:
"We have taken a holistic approach to improving the biodiversity across the whole site. Over the past 4 years, we have introduced 100s of new trees, including fruit trees within our community orchards, as well as increasing grassland and wildflower areas"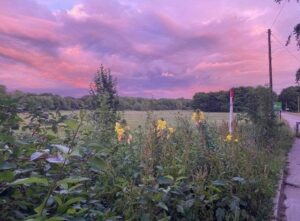 Other exciting work the group have undertaken includes installing new garden areas and creating a new habitat for a bee colony.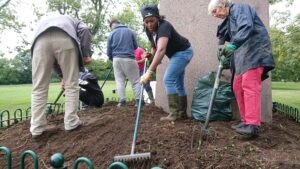 Location: Ash Tree Rd, Crumpsall, Manchester M8 5RX
Find out more: Visit their website, Facebook and Twitter pages or send them an email
How to get involved with volunteering: Just turn up to an event
North Manchester is home to many wonderful community spaces, one of these being Crumpsall Park.
Hannah Priest, Treasurer for the Friends Of Group since 2015, told us about the type of volunteers who already work with them:
"We currently have a committee of 6 people, and around 15 other regular volunteers who help out with our activities when they can"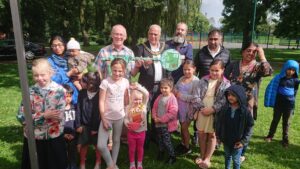 The volunteers regularly take part in litter picks, park maintenance, gardening projects, and even fun family days. Hannah told us about the group's biggest achievement back in 2019:
"We're most proud of the month of events we planned in 2019 to celebrate the park's 120th birthday, which included art workshops for children, local history talks, a fun day, and the creation of a new ceremonial 'key' to the park, in memory of the one presented to the Lord Mayor of Manchester on the opening of the park in 1899."
"Pop along to one of our monthly community litter-picks in the park, on the first Sunday of every month at 10am, and say hello."