Meet the Wavers: Promoting Sustainable Food Production
Meet the Wavers: Promoting Sustainable Food Production
Have you ever considered how much impact our growing population has on the world? As well as an increased need for energy and water, the increase requirement for food now accounts for 26% of global greenhouse gas emissions.
But not all hope is lost! As part of the Food Wave project, young people across Greater Manchester are taking steps to learn about the benefits of sustainable food production. In this blog, we'll introduce you to Fran, Lucy and Raddon, three people who took part in the Food Wave training programme.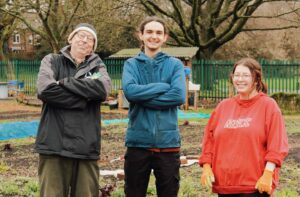 Why is meat and dairy production bad for the planet?
When it comes to environmental issues caused by global food production, meat and dairy is by far the biggest contributor.
In the UK, agriculture, particularly meat and dairy farming, currently accounts for As well as what we produce locally, the UK also imports around 250,000 tonnes of beef annually from other countries, further adding to our carbon footprint.
As the demand for meat and dairy increases, this can lead to large areas of green spaces being used to raise cattle and grow crops for animals, instead of being used to grow plants and encourage biodiversity. In addition, cows emit methane gas into the atmosphere, a gas which is around 25 times more damaging for the environment than carbon dioxide, doubling the environmental impacts by removing the greenery which produces oxygen and increasing the number of methane producing cows.
So how can we combat this? A global shift to a plant based diet could actually help to reduce greenhouse gasses by up to 70% by 2050! However, taking small steps towards eating more vegan produce, such as having a Meat Free Monday, also contribute towards helping the planet.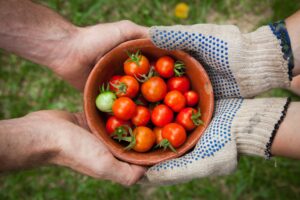 Food & Health
Food choices have an impact on our physical and mental health, as well as the planet. When Fran and Lucy took part in the Food Wave training programme, one aspect they learned was how locally grown, plant-based food can improve your health. Fran told us:
"I loved when we learnt how the micro-organisms in locally grown food are beneficial to our gut bacteria and that benefits our mental health."
For Lucy, discovering the benefits of local, seasonal produce also encouraged her to incorporate new foods into her diet:
"I've always loved cooking, but I've had much more motivation to cook since starting Food Wave. I've also gained new appreciation of vegetables that I used to be quite picky about in the past! My advice would be to take time for yourself a couple times a week to cook a meal that you genuinely love, with fresh ingredients, and try to research ways to make your meal as low carbon as you can"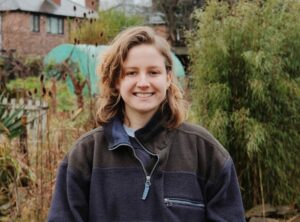 Sustainable food activism
It may be hard to imagine that small actions can change the way food is produced, but a movement starts with small steps in the right direction!
Whilst learning about sustainable food production, participants also learned about how to become activists; spreading their knowledge to the masses. Raddon explained about how this quickly became his favourite aspect of the programme:
"My favourite part of the programme was coming up with ideas for direct actions to engage people with issues around sustainability in the food system and what to do about them. The variety of ideas everyone came up with when given the chance to be creative on an issue they were passionate about was really exciting."
Raddon also told us how participants were taught how to communicate effectively with members of the public and local organisations in ways that would resonate and encourage action.
"The importance of genuine consultation with communities to make long-lasting sustainable changes at a local scale. This means catering to what people want these changes to look like in their area, not what the organisation or council proposing changes thinks they ought to want."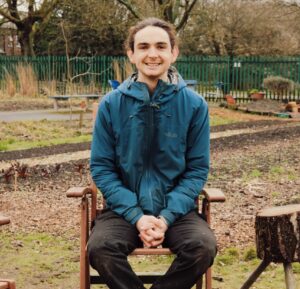 What local initiatives can I get involved in?
Want to develop your skills and knowledge so that you can spread the word about sustainable food production? There are groups and organisations all over Greater Manchester whose goal is to engage and inspire others with community gardening, composting, plant based diets and more!
One spot our Food Wavers are very familiar with is Platt Field Market Gardens, a community growing hub in Fallowfield, which grows a variety of seasonal fruit, vegetables and herbs through community based activities. A few weeks ago, the Food Wave activists visited Platt Fields to help move compost between containers. Lucy explained all benefits of composting she learned on the day:
"It helps to reduce food waste by allowing people without composting facilities at home to donate their waste. It also allows people to take compost home for their own gardens"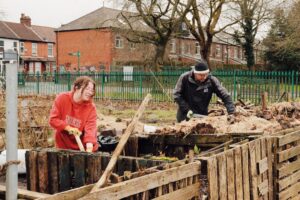 While learning about sustainable food production, Raddon began to put his new found interest for locally grown food into practice:
"I'm now a Volunteer Co-ordinator with the Fallowfield Secret Garden, a community garden in South Manchester, so am starting to put this new appreciation into practice by getting as many new people involved with the site as possible."
---
Discover more local groups below:
Green Fingers Moston Community Garden