Sustainable Winter Produce: Can Growing Your Own Make a Difference?
Sustainable Winter Produce: Can Growing Your Own Make a Difference?
For those seeking more ways to reduce their environmental impact, food growing is a great way to make a difference, even in winter. Despite the cold weather, many varieties of vegetables can be still be grown. Over 7 million people in the UK started to grow their own food for the first time during the pandemic, why not join them?
---
Meet the Manchester Urban Diggers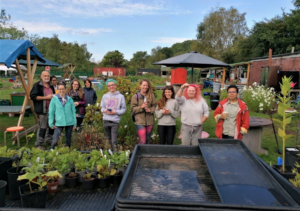 Mike and Nerissa are members of the Manchester Urban Diggers, a group of urban gardeners making spaces for people to grow food.
Mike is one of three founding members of Manchester Urban Diggers, which started in 2019. Nerissa joined the Urban Diggers during lockdown, initially volunteering in her spare time.
Nerissa and Mike both agree that growing your own produce is a great way to help tackle the climate crisis, with Mike stating:
"I think it's the only way we'll survive as a species. In terms of community resilience and helping the environment, people need to stop relying on industrialised farming and become more self-reliant"
Prior to the group Nerissa didn't have much experience growing her own produce, however she has learnt many lessons through the group, adding:
"I approached the group from more of a mental wellbeing side and a chance to learn new skills. Now I understand the importance of growing my own food and being more self-sufficient, and that there are other benefits to growing your own food than just the environmental side."
---
What can you grow this winter, and how can you grow it?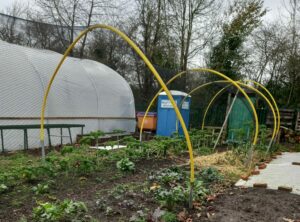 The Manchester Urban Diggers grow a variety of fruit and veg on site at Platt Fields Market Garden, even in the winter months. Mike gave us the lowdown on what grows best in winter:
"Local winter veg includes different types of kale, spinach and cabbages. We also grow a lot of oriental cabbages, such as pak choi, which do well in our Polytunnels. I grow a lot of herbs at home, I'm currently growing some coriander."
Not everyone has access to green space to grow their own produce, in this instance windowsill planters can be used. Mike gave us some insight on how to get started with these:
"As long as you've got a window, you can grow on a windowsill! All you need is light and water, so even if you've got no outdoor space, you can easily grow in any sort of containers that can hold soil. We have a sign at the front of the garden which says 'grow what you can where you can' which is what we try to teach others."
---
Food Wave
Nerissa also took part in the Food Wave Winter School, organised by Groundwork, Sow the City & Met Munch. The project aims to teach participants about urban food production, sustainable farming and how to source, buy and cook local, sustainable produce.
"The winter school was 100% online when we started, but I really enjoyed doing it, I learned about things I wouldn't learn here at Platt Fields. There's a lot of emphasis on well being and growing our own food but we don't really tackle the other aspects of sustainability. There was a lot of information on food miles and packaged food in supermarkets which I don't really think about at work. It was great to learn about all those different views on food production."
---
Sustainable Winter Produce
Food production and consumption is responsible for up to 30% of global greenhouse gas emissions. Here's our 3 tips on how to shop more sustainably:
1. Shop in your local community
2. Increase your knowledge of sustainable food consumption
3. Start to grow your own fruit & vegetables, even if just on a window ledge
Before getting starting growing your own food consider this advice from Nerissa:
"If you grow something and it goes wrong, you can always try again, it's not the end of the world! We'll try growing things here sometimes and it won't work, a frame might fall over or the crops will get eaten, so you have to accept that there are things you can't control"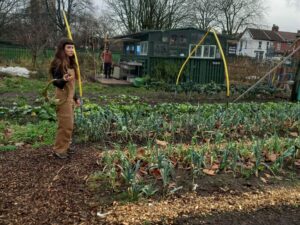 Have you started growing your own food over the pandemic? Head to our social pages to show us what you've grown!
Want to follow the Manchester Urban Diggers and see all the amazing projects they work on? Follow their social pages here:
Manchester Urban Diggers Instagram