Grow Speke has completely changed my life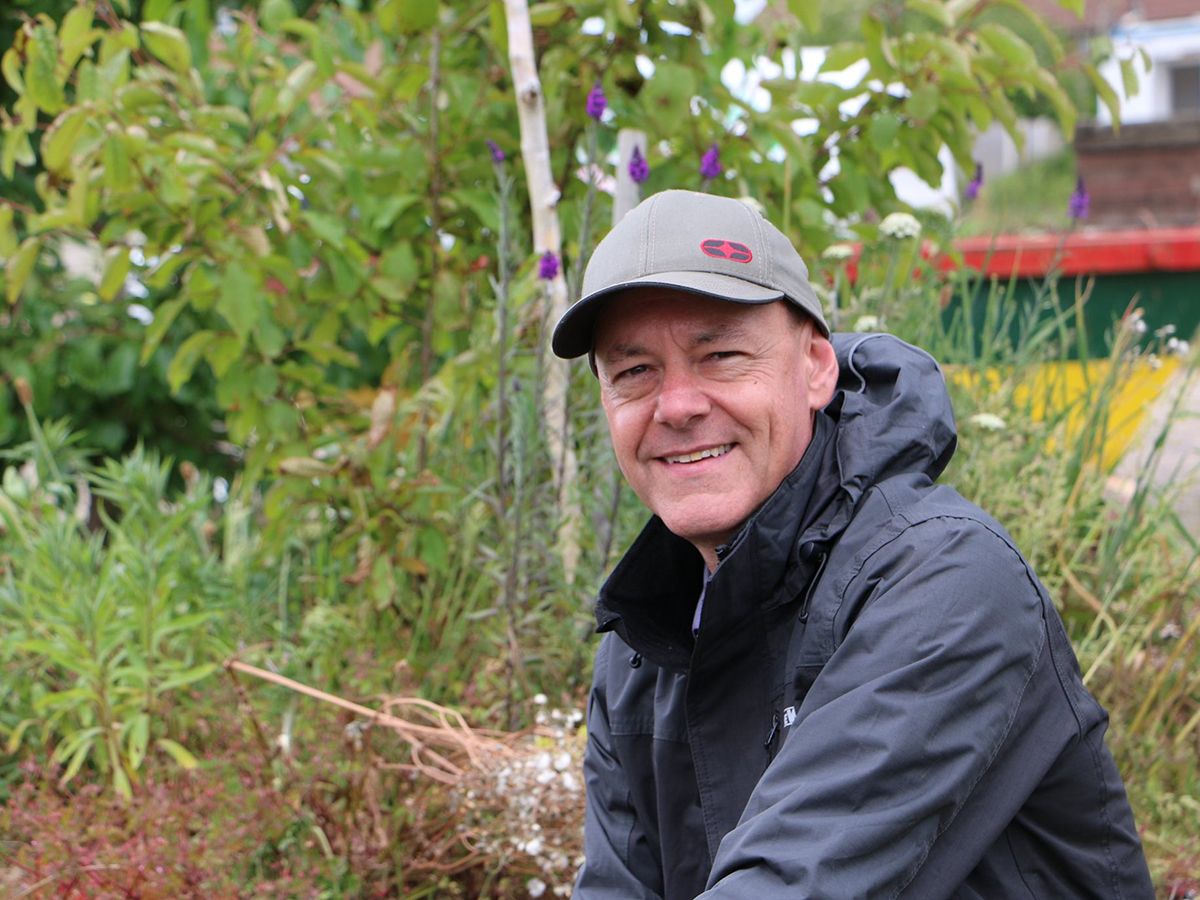 Over the last 12 months, many of us have begun to appreciate the positive impact that spending time in green spaces can have on our mental health. For Colin, volunteering at his local community garden has not only benefitted his mental health, but completely transformed his life.
Colin says:
The start of my working life wasn't much different to many people back in the 1980s. At the age of 16, I started a City and Guilds Apprenticeship in Fibrous Plastering. I was soon working all over the country and I really enjoyed it.
But then, aged 20, I was at Hillsborough on the day that 96 football fans lost their lives. This event, was soon followed by bereavements in my immediate family. This had a huge and sudden impact on my mental health and I started to suffer from severe anxiety. I soon became unable to work and as the months went on I struggled to get back to full-time employment. Back then there was practically no support available for people with mental health issues. It was seen as a weakness. The longer my situation went on, the more difficult it became. Before I knew it, I'd been unemployed for 30 years.
At the age of 23 I'd embarked on Access to Higher Education course and then got a degree in Environmental Science /Geography. Yet despite these achievements, my self-esteem was still so low that I didn't even have the confidence to apply for jobs. I was depressed and felt increasingly isolated. I've always appreciated the power of nature and having access to green space has always been really important for me in managing my wellbeing. For me, nature heals, it calms my mind and helps me to feel some sense of positivity during difficult times.
When I heard about Grow Speke it felt like an opportunity to get involved in a project where I could be involved in nature and become less isolated. That said, it took me a couple of months to summon up enough courage to approach someone on the site to find out more. That probably says a lot about how low I felt at this point.
I started by having a chat with the Project Officer, Justin, over a cup of tea. Everyone involved with the project seemed really friendly and welcoming. There was a really relaxed atmosphere, which I enjoyed and before long I was dropping in at the site 3 times a week. Suddenly I had a purpose and something to look forward to. Grow Speke had only just started at that stage, so a lot of the work involved was quite physical, like removing rubbish, weeding, turning the soil over and chopping back overgrown bushes. It was hard work, but gradually the site began to take shape. We built some raised beds to grow fresh fruit and vegetables and soon installed a polytunnel and a portacabin. We started hosting events for the local community, at Christmas, Halloween and Easter, with hundreds of people coming along. It was great to see what was previously an overgrown and unloved site coming to life as a hub of the local community.
As my confidence grew I really enjoyed being part of the Grow Speke team, meeting new people and making new friends. I began helping to run outdoor gardening sessions for local school children, marshalling events and delivering craft workshops. I was also introduced to our local MP and the Metro Mayor, showing them around the site and talking about how the project has helped me and many others. I even set up my own Twitter page, sharing details of activities, along with photos of the plants, nature and habitat that live on the site.  One of the things I love most about Grow Speke is that everything grown on site is organic, without using chemicals or pesticides. Recently we built an apiary and now there are 7 hives that produce organic honey. We've also created a wildflower meadow and planted a fruit orchard.
During lockdown I was given responsibility for maintaining the site, making sure all of the crops were watered and the bees were fed. Throughout the summer Grow Speke donated fresh fruit and vegetables grown on site to hundreds of local families and community groups. I loved being part of this and seeing first-hand how Grow Speke can make a difference to people's lives.
Last year I was offered a paid, seasonal part-time role, giving me my first pay packet for over 20 years. To be honest, the money itself wasn't really that important, but the feeling of being valued and knowing that I had earned a wage was priceless.  
I'd recommend volunteering to anyone who is struggling with their confidence, or feels a bit isolated. It has opened up a whole new world of possibilities for me. Grow Speke has improved my self-esteem, given me a sense of purpose and a chance to spend time outdoors doing something I love. I know that my fellow volunteers feel the same.
The beauty of Grow Speke is that it's open to anyone and you don't have to be interested in gardening to get involved. You can come along to one of the events, or drop in for a brew and a chat. It really helps to be able to spend time outdoors, interact with other people and forget about any troubles or stresses that you may be having in your life, even if it's just for a little while.
The heart of communities have taken a battering recently when it comes to accessing resources. Grow Speke offers the whole community the chance to get together in a cherished piece of green space. This will be invaluable for today's and tomorrow's generations.
I've always been keen on giving something back.  If telling my story encourages just one person to try spending time in nature, or to get involved in volunteering, then it has been well worth it.
Find out more about Grow Speke.
Visit the Grow Speke Facebook Page.