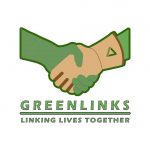 Groundwork NE & Cumbria are currently delivering a programme to address social isolation and loneliness amongst people presenting memory problems (undiagnosed and diagnosed dementia) and their carers. Activities are based around horticulture, green exercise and other activities, encouraging people to connect with nature.
Sessions currently take place in Stockton, Hartlepool and Darlington, with all sites providing the correct infrastructure and environment for beneficiaries.  With weekly sessions, our clients and carers can get used to an appropriate routine which beneficiaries have responded well too, this is something we continue in the winter as we move indoors to a warm suitable venue and tailor the environmental activities to take place indoors.
The Green Links project helps to reduce the strain on carers by providing either the opportunity to meet other carers whilst working on the allotment or using the time elsewhere whilst the person they care for is working on the allotment. It is important that we support carers to maintain and increase their social health to be able to cope with the changes they will be going through in their life as well.
The project also works with local care homes to encourage participation (either within care home session or at on site sessions). We are currently working with 20 care homes across the Tees Valley through the Green Links programme.
More recently our new strand of Green Links has allowed us to work with those living with young onset dementia. Young onset dementia focuses on those that are under 65. We found that the smaller cohort of people living with young onset dementia were struggling to engage in activities as they wanted to be outdoors doing much more active programmes, this addition works well against the overall Green Links programme and provides individuals with options to ensure that the programme suits their needs.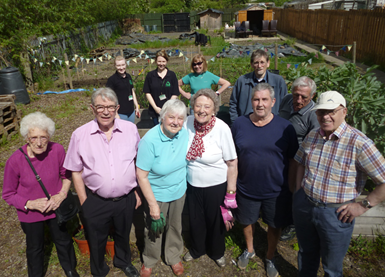 Funding
Green Links initially launched in 2015 where we were funded through the Hartlepool and Stockton CCG via VCSE grants scheme for two years in Stockton on Tees. We were then successful in securing a two year grant from the Better Care Fund which allows us to run the programme in Stockton for a further two years until October 2019.
With the positive feedback and successful model we have then piloted the Green Links programme in Hartlepool which was possible due to a 18 month grant from the Hartlepool and Stockton CCG via the VSCE grants scheme.
The Green young onset dementia strand has been piloted through the support of tesco bags of help and the Transpennine fund.
Darlington Green Links will launch on site in March 2019 and this has been made possible to the CDCF fund.
I enjoy coming down to site, seeing everybody, working hard but also having a cup of tea and a chat – Client
Outcomes
A total of 109 beneficiaries of those living with Dementia engaged in the project.
A total of 57 carers either engaged in the session or provided with much needed respite time through the programme.
Most recent outcomes:
80% of clients have all reported feeling less lonely following engagement in the programme
89% of clients have reported feeling more confident following engagement in the programme.
89% of clients have reported to of been more involved in their local community since their engagement in the project.
78% of clients have reported an increase in their physical activity levels since joining the project
100% of carers have reported that clients have increased their support network since joining the programme.
The project was nominated for, and won, the won the Health and Wellbeing Category for the Mayors Civic Awards 2016/17
External evaluation of the project, by Teesside University has attributed the project a Social Return on Investment figure of £1: £11.43
For more information, or to join in the sessions please contact:
Loren Bellwood loren.bellwood@groundwork.org.uk
Tel: 01642 815663