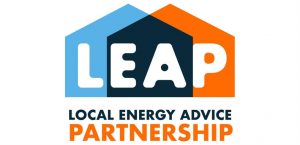 Groundwork and The Green Doctors are a Local Energy Advice Partnership (LEAP) partner.
Offering local residents a completely FREE OF CHARGE service. LEAP can help you to save money and keep your home warm and cosy.  Free for local residents.
HOW IT WORKS:
If you're eligible, you will get a FREE home visit from a friendly, qualified Home Energy Advisor. LEAP can:
Help check if you are on the cheapest energy tariffs – could save you over £280 a year.
Install FREE, simple energy saving measures which can save the average household £30 on their energy bills a year.
Give you day-to-day energy efficiency hints and tips and ensure your heating system is set up to keep you warm and save money.
Arrange a FREE telephone advice service to help with benefits, debt and other money problems.
Refer you for further energy efficiency improvements, such as loft insulation or a new boiler.
ARE YOU ELIGIBLE?
Eligibility checklist here
You may be eligible for the LEAP service if one the below apply. If you:
Have a low income
Receive tax credits
Receive Housing Benefit
Receive an income or disability related benefit
Have a long term illness or disability
If there is someone you know who may benefit from these services, please contact our team.
Call us on: 0808 1683547
Email: greendoctorleeds@groundwork.org.uk