We support community gardens in all sorts of places!
Gardening is great for mental and physical health. Being in nature, growing what you eat and meeting other people are all reasons why people love our garden activities.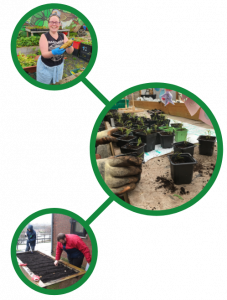 Northern Allotments
Our Community Gardener provides support and gardening resources to different community groups with allotment sites and gardens in the Northern trust area.
Hydebank Wood College
Working with the Northern Ireland Prison Service, we have created a garden within the grounds of Hydebank Wood College. Participants from inside the prison can attend weekly sessions, where our gardener teaches them gardening skills. This is a community garden and it is open to the public, as well as visitors to the prison.
The garden has a large polytunnel, seating and an indoor cooking area.
We also welcome volunteers to the garden and can host groups for activities too, see details below to get in touch and find out more.
If you would like to find out more about any of our garden projects, how we can work with your group to start or support a garden, please get in touch with Heather: heatherboyd@groundworkni.co.uk