"We can all help to make the world just that little bit better."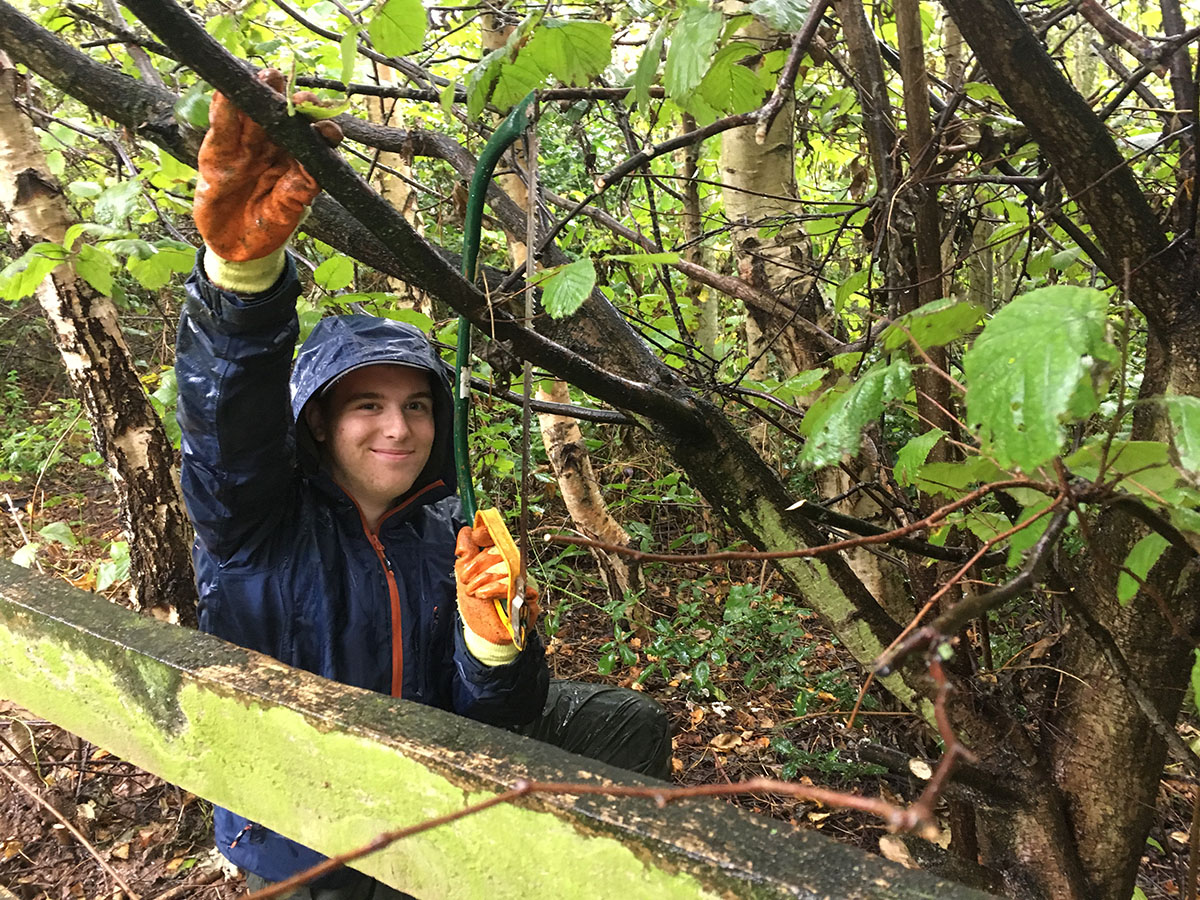 Sam is a volunteer on the North Blackpool Pond Trail project. He loves being involved with Groundwork and says that volunteering has helped him fulfill his passion for helping the environment, meet new people and give something back to his local community.
Hi my name is Sam. I'm a student at Myerscough College and for the last 5 years I've been volunteering with Groundwork.
I've always been interested in the environment and from a very early age I was filled with questions like 'How does it all work?' and 'Why are habitats structured the way they are?' These questions made the natural world a magical place that I wanted to decode.
When I was 8 I joined the Blackpool Junior Rangers, which I was involved in for 2 years. I also joined Stanah Squirrels, which is where I met Pauline from Groundwork.
It was great to meet other people who had the same interests as me and to make friends with people I probably wouldn't have met otherwise.
At Squirrels I learnt all about the environment and learned skills like how to calculate a tree's height, map reading and making hedgehog boxes. When I was 14 Pauline suggested I joined the Green Leader project run by Groundwork. This was my first adventure into volunteering and I loved it.  This project sadly ended when I was 16, but I then got involved with another Groundwork project called Future Proof Parks.
I'm currently working with Pauline on the North Blackpool Pond Trail as a Co-Leader and really enjoy it. I've met people from all walks of life – all of us connected by our passion for maintaining the community's green spaces. Each day brings new challenges and no two days are the same. My favourite thing is the people. You hear stories from people about their lives and how the Pond Trail is really important to them. Volunteering on the Pond Trail has helped me connect to the wider community and feel like I am part of something bigger working together to do something good.
I feel proud to be helping my community and giving more people the opportunity to experience nature.
Working with Pauline has opened my eyes to how charities like Groundwork work and the good work they do for local communities. I feel proud to be helping my community and giving more people the opportunity to experience nature. I want to help protect parks, ensure development becomes more integrated with nature and that correct procedure is followed. I think it's important that more people get the training they need to help protect greenspaces and the UK's wildlife.
This year I'll be leaving for University and training to become a consultant ecologist. I will also be working with different organisations to train to identify different species, spread the word about ecology and other sciences to get more people interested in the environment or just science in general. My main objective to give people the knowledge and tools to improve the planet and their lives. To make this world just that little bit better.
Get involved
Volunteering is a great thing for any young person to get involved in. It gave me an escape where I could just forget about school, meet new people and have a laugh with others whilst doing something good for the community. It's also great for your CV – so get as many hours as you can, it shows your commitment and helps with your timekeeping. I urge you to look at local groups whether it be Councils or charities like Groundwork, where you can  make a difference and learn some new skills. If you can't volunteer then see what else you can do, start a club at school or college or just learn about nature. There are some great books out there about ecology, environmental sciences and a bunch of other topics too. Ecology is a science that recently has been exploding across the world and I think it's critical in the fight against pollution and climate change. There's never been a better time to be interested in nature and the world around us. Find a topic that you are passionate about such as insects, fungi, or a particular habitat and learn about it. You can make a difference and change the world. By working together, we can all help to make the world just that little bit better.
For more information about volunteering with Groundwork please email: clm@groundwork.org.uk