Donington Woodland Volunteer Day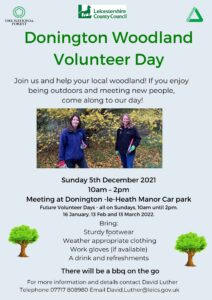 We are looking for volunteers to start a new group at Donington-Le-Heath Woodland, near Coalville. Groundwork and Leicestershire County Council are holding their first practical event on Sunday 5 December, 10am to 2pm. This will be conservation work in the woodland including coppicing, felling, and making habitat piles.
Donington le Heath Woodland is one of the many young woodlands planted up as part of the National Forest over the last 30 years, and is now at a stage to really benefit from some careful management.
Councillor Blake Pain, lead member for Environment and the Green Agenda at Leicestershire County Council said. "This is a great opportunity to join a new volunteer group at the very start. As well as learning lots of skills, these action days are all about socialising and enjoying this lovely woodland."
Marion Farrell, from Groundwork said, "Volunteering in the great outdoors is a good way to get to know your local area better, meet new people and improve your mental and physical health."
At each action day all tools and equipment are provided. No experience is necessary as the staff will be happy to pass on their knowledge and skills.
To book your place for Sunday 5th December and for more information, please contact David Luther, (Leicestershire County Council). Telephone 07717 808980 email David.Luther@leices.gov.uk
Future Volunteer days are on Sundays 16 January, 13 February and 13 March 2022.