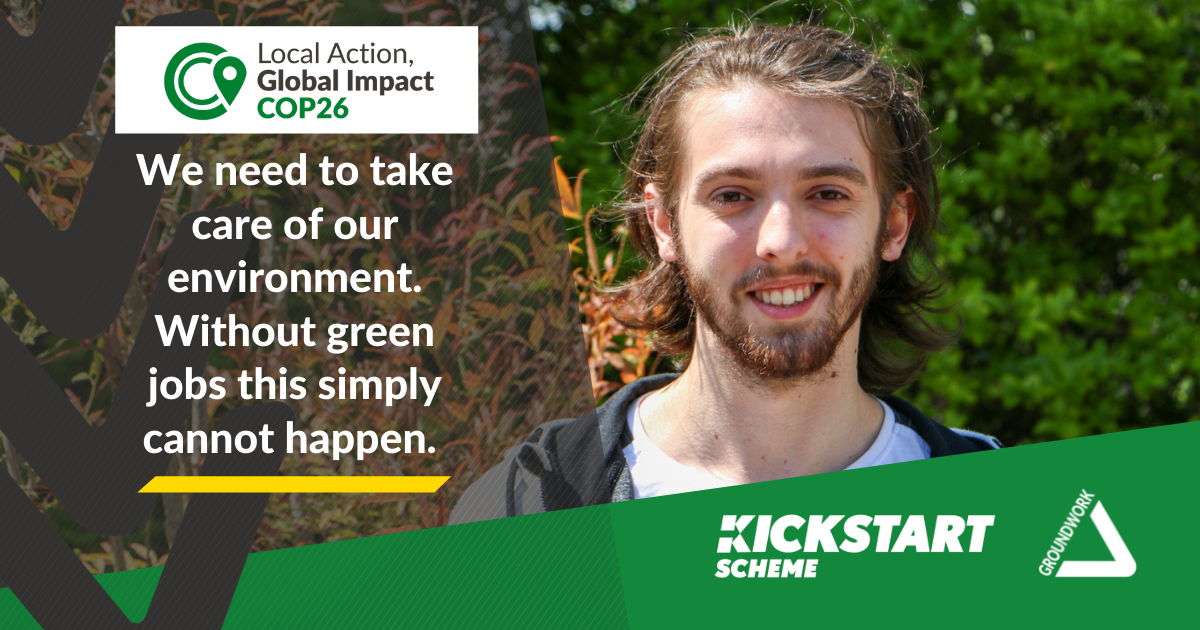 Thousands of new green jobs need to be created to meet the UK's climate targets. Groundwork is supporting people from all backgrounds into green jobs.

Nathan recently joined our Green Doctor team through the Kickstart scheme. He now works as a Marketing Assistant, encouraging people and communities to reduce their carbon emissions and to live more sustainably.
Read Nathan's story:
After finishing my A-Levels in Media, Business, and Law I felt 'stuck'. I knew University wasn't for me but was confident in my skills and ambitious to start a career that would combine my love of creating media with my love of helping people, animals, and the environment.
Unfortunately for me, the Job Market wasn't on the same wavelength. After spending years in minimum wage jobs stacking shelves and serving sausage rolls, I was depressed and extremely frustrated. I felt as though I was wasting my life and began to give up all hope of starting a career in a sector I truly believed that I belonged in. That's when my work coach at Universal Credit told me about a new programme called Kickstart.
Applying For Work
At first I was sceptical. I didn't think I'd stand a chance of getting the type of job I'd been denied countless times before, but I decided to apply anyway. I had nothing to lose. The Marketing Assistant role at Groundwork consisted of everything I've been wanting to do since High School. I was very nervous for my interview. I still felt like I was out of my depth due to my lack of experience in the charity and green sector, with my biggest contribution being a couple of small scale fundraisers. Then I attended the interview and my mind was put at ease. I was true to myself and the team realised my potential, confirming that I would be a part of great change, something I've wanted for most of my life.
The Kickstart programme and Groundwork are helping me develop my skills through training, qualifications and hands on work.
Two Months In
At the time of writing this, I'm now two months into the job and it has surpassed all my expectations. The Kickstart programme and Groundwork are helping me develop my skills through training, qualifications and hands on work. I now feel as though I'm helping to make a difference. I'm working with a fantastic charity as part of the Green Doctor team that is raising awareness of the importance of reducing carbon emissions, as well as helping vulnerable people in communities, including the one I've grown up in.
We need to take care of our environment and our communities and without green jobs, this simply can't happen.
My short time at Groundwork so far has given me the confidence and drive to continue working in the green sector once my placement is over, and I hope to continue this here at Groundwork. I believe it is my generation's duty to support the growth of the green sector. Groundwork has given me the chance to be at the forefront of what will soon be the most important job sector worldwide – green jobs.
Give It A Try
Maybe you're struggling with the same issues I was. I strongly urge you to give Kickstart a try and look for a role that is suitable for you. It may well change your life, its already changed mine.
I thought I might be out of my depth.
I wasn't and I'm pretty sure you won't be either.