Food growing hubs gets a boost thanks to volunteers and funding from Tesco
Thanks to funding from Tesco Bags of Help Groundwork led team-building events at the community food growing hubs in Luton.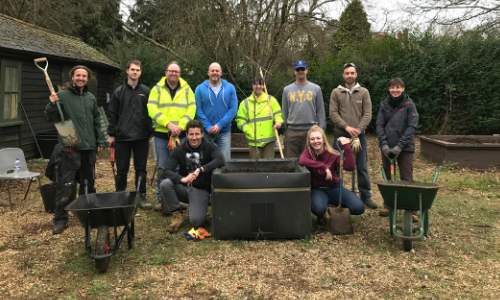 Four team-building events took place as a result of the grant with teams from Galliford Try, Eengie and the Environment Agency.
In March 2019 six staff from Galliford Try took part in tasks at Memorial Park, Luton (the newest community food hub).  Tasks included painting a 'bobbin' table, painting a wheelbarrow as a chard planter and general garden tasks such as planting and weeding.
June 2019 saw seven members of staff from Eengie Luton take part in further improvement tasks at Memorial Park.  The team helped refresh growing beds at memorial by adding new soil and brightened up the existing furniture by painting it blue.
Two further team events took place in late June 2019 with students from Nova College.  The students were given a taster session in strimming and lawn mowing.  The group also took part in general gardening tasks such as tidying, weeding and harvesting.
---
Find out more about team building
Find out more about the community hubs
---