Four community groups win £24,000 funding to transform unloved places
In Spring 2021 Groundwork Greater Manchester ran the Eco-Streets competition; an opportunity for four Greater Manchester community groups to win £6,000 funding to transform an unloved area into an exciting green space to help alleviate climate change. With over 400 registers of interest and 45 applications, it's now time to meet the winners…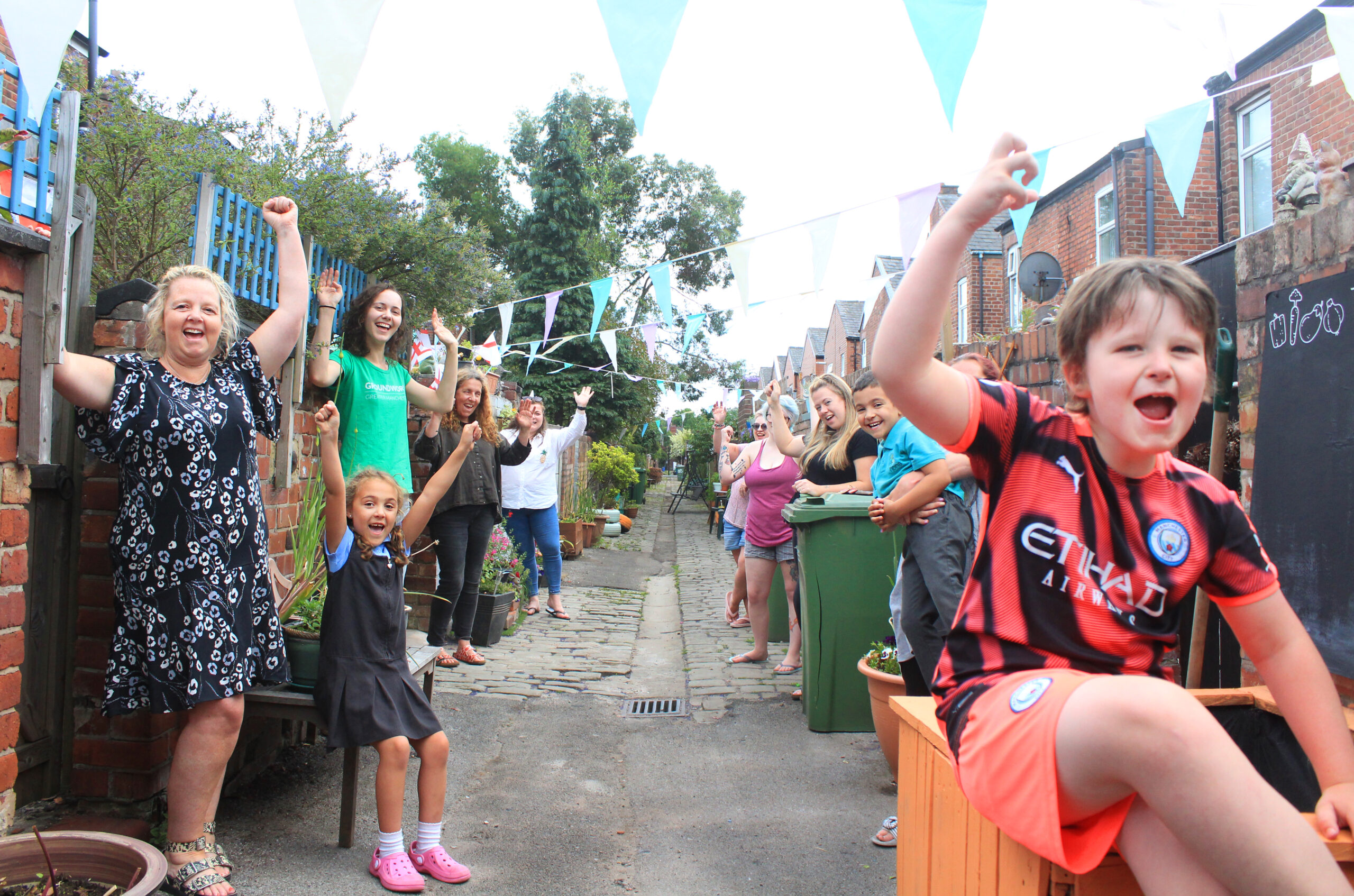 Eco-streets will embed smaller scale nature-based solutions such as rain gardens, green roofs and walls comparable to those featured at the Ignition Living Lab to better understand their benefits in community environments, from reduced flooding to better air quality and increased physical and mental well-being. 
---
The Pioneer Quay Project
The Pioneer Quay project was founded by Sam Williams, who noticed the growing need for accessible, well-managed green-spaces in Manchester City Centre. As a local resident, Sam felt that creating such space would build community cohesion within the area, giving other people the opportunity to discover nature and take ownership of a vibrant shared space.

Approaching the site, to your left you will see the Bridgewater Canal, and to your right one of the many archways in the Cornbrook Viaduct – which for a number of years has offered shelter for the homeless community. Sam is hopeful that the funding will go towards encouraging re-integration into society for people living on the streets, ensuring that the space is somewhere they can not only visit but also engage with.
---
Blooming Amazing Alleyways Project 
When passing through Gorse Hill, Stretford, you may find that a number of alleyways have been transformed into attractive communal spaces you'd want to explore, though this hasn't always been the case. For local resident Elena Greenall, the surrounding alleys were an opportunity for her children to make use of the space and play, but it meant she found herself having to clean them beforehand, ensuring that they're safe and protected. 
A collective vision for the community then started to grow, and with it Gorse Hills Amazing Alleys was born; a group of residents passionate about transforming their alleys into brighter, more inviting spaces. With the help of Groundwork, they plan on using the funding to install air pollution absorbing plants, protecting children in the adjacent primary school from the nearby A56. They're hopeful this will engage the wider community and build on their fantastic work so far.
---
Pigeon Park 
For over 5 years, community group 'BeLongsight' have been working in their local area to tackle fly-tipping and encourage neighbours to create a greener place to live, transforming alleyways and communal spaces. One prominent feature for as far back as local resident Mo can remember is Pigeon Park, a triangle of green-space that has been indistinguishable for her 40 years of living in Longsight.
Despite its heritage and importance to Longsight, the site eagerly needs some love and attention. Sandwiched in between two of Manchester's busiest roads, it has since developed it's nickname due to the hundreds of pigeons that flock there to feed on left-over food. Together, the group have collaborated to transform 'Pigeon Park' into a vibrant community green-space that will trial nature based solutions to climate change, and encourage people to travel on foot and visit the park. 

---
The Ginnel Garden
Once a neglected, heavily fly-tipped alleyway, the Ginnel Garden is the product of local resident Isabelle Scott's imagination. The inter-generational project is the definition of productivity, using time spent at home throughout lockdown to bring the whole community together and establish new methods of growing food and veg.
With their new connected interest, the group are harnessing their energy by going a step forward and implementing nature based solutions that will mitigate the effects of climate change. Their plan is to support elderly residents by erecting raised beds throughout the space, as well as trapping air pollution by adding a living wall.

---
With thanks to We Love MCR Charity, two additional projects, Pioneer Quay and Pigeon Park, were funded as part of the Eco-Streets competition. This will benefit the organisations overall mission to support and inspire Mancunians to make our city a fairer, safer, cleaner, friendlier place.
The funding comes through IGNITION, a ground-breaking project that aims to develop innovative financing solutions for investment in Greater Manchester's natural environment.