How Nature can help to improve Mental Health
Each year, 1 in 4 people in the UK experience mental health issues. Although medical advice should always be sought, like many other illnesses, there are things you can do to combat and lessen the effects. While some of the most common methods include therapy and medications, some people find that simply spending time in nature can do wonders for improving their mental health.
We'd like to tell you about 3 very different people who took part in Groundwork projects and reported their mental health improving as a result of increasing their connection with nature.
---
Lily's Story
Lily was having a difficult time at school, her anxiety made it hard for her to speak up in class and gave her a fear of upsetting people. When she began her mentoring with Groundwork Youth Worker, Claire Begley, Lily slowly began to overcome her mental health issues. They conducted some of their mentoring sessions outside, walking in the school grounds and visiting local parks.
"Claire was a lot easier to talk to because I didn't feel like she was going around telling other teachers. Every week she'd just come in, take me out of lessons for half an hour and I'd just talk about my week and then she'd give me some activities to do."
Lily gained so much confidence through her mentoring that she went through a volunteering programme and put herself forward to become a peer mentor for the new Year 7's in her school. 20% of adolescents report experiencing mental health problems each given year; our Achievement Coaching programme aims to provide young people with the tools to become stronger and more resilient.
Watch Lily's full story here:
---
Julie's Story
Julie's depression resulted in extreme isolation. She would only leave the house at night to do her shopping, and she often struggled to get through everyday tasks. After four years of social isolation, her friend encouraged her to visit the new community growing space in Brinnington.
Julie soon discovered that maintaining the allotments did wonders for her mental health.
"There is something about the soil. It helps mental health; it diverts your brain."
Following her involvement in the Green Thumbs community allotment, Julie went on to become the Local Vice Chair, and now seeks to help more people improve their mental health.
"People in Brinnington will talk about having depression and if one of us is down and we know it we'll sit down and talk to them. We're willing to talk about the fact we have depression, we have social isolation, anxiety and poverty."
In the UK, more than 2 million people in England over the age of 75 live alone, and more than a million older people say they go for over a month without speaking to a friend, neighbour or family member. The Green Thumbs community allotment in Brinnington aims to educate residents on how to grow their own fruits and vegetables, and encourage them to spend time with others in this wonderful community space.
Watch Julie's full story here:
---
Chris' Story
A few years ago, Chris (name changed to protect identity) was in a dark place with his depression. He'd been involved with the wrong people, isolated himself from his family and became addicted to drugs and alcohol to cope with his emotions. One day Chris realised he needed to change but didn't know where to start. Luckily he found out about the Prince's Trust Team programme, which encouraged him to spend 12 weeks taking on a number of exciting challenges, including outdoor pursuit and community volunteering. The programme helped Chris to build his skills, confidence and mental health. After the programme, Chris was successful in his application for a role as a Land Apprentice as part of Groundwork's Green Team.
"I've learnt a lot since working with the Green Team, I really do adore my job and I don't think I'd be here today if it wasn't for the opportunities that I've been given. I couldn't be more thankful and grateful for it and now my life is finally but surely coming together slowly. I might even be able to see my children again soon."
16.6% of adults in England report drinking to hazardous levels, and 3.1% of adults in England show signs of drug dependence.
The Green Team programme is one of many Green Skills programmes which makes communities greener, while also offering job opportunities for local people. It's common that many trainees have barriers to getting work, such as mental and physical health issues, which is why the Groundwork team offers a variety of wrap around support services.
Groundwork also works with social enterprise Turning Point to provide support services to people who are affected by drugs and alcohol.
Read Chris' full story here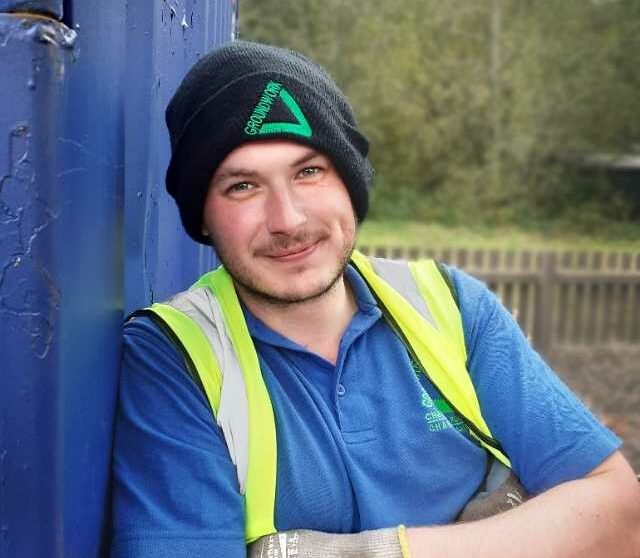 ---
If you or anyone you know is suffering with mental illness, remember that you aren't alone.
Please check out some local helplines below for further advice.
National Suicide Prevention Helpline
---
Has nature helped you improve your mental health issues?
Share your stories with us on social media!