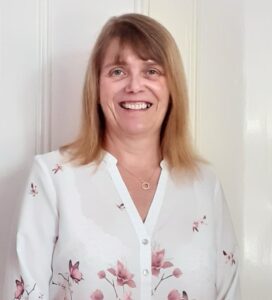 Sue Williams, 51 started volunteering at Groundwork's Green Patch after her daughter Florence began attending an after-school club there. Having worked as a nurse for 30 years, she was keen to have a career change and work for a charity. In October 2020 she took on the role of the 'Better Together' Hub Co-Ordinator where, employed by Groundwork Northamptonshire, she supports families and individuals of all ages across Kettering and the wider area.
As well as working in my role as the Better Together Hub Co-ordinator I've been volunteering at the Green Patch for over 2 years now. What started off as supporting an after-school club, soon led to more regular volunteering, often with my daughters Florence and Mollie. During lockdown we painted walls, weeded, watered plants and assisted the manager to sort the donation shop out. We spent a lot of our time chatting to people of all ages who visit and we helped with the animals, and Mollie loved selling the plants. I also assisted in delivering parcels to vulnerable clients for the 'GROW 100' project and activity packs for children who were at home and unable to visit. I helped making up vegetable boxes which were ordered and sold, and we would generally do anything to help.
Over lockdown and through my volunteering I learned a lot about what Groundwork does. I had been ill for a couple of years and felt that being at The Green Patch, surrounded by a beautiful area and amazing people, restored me a lot. I felt they were the charity I would like to be part of.
My role as the Better Together Hub Co-ordinator was initially in collaboration with Kettering Borough Council (KBC) working with the Clinically Exceptionally Vulnerable (CEV) throughout lockdown. This role continues but as we come out of lockdown my client base has reduced. I do shopping, collect prescriptions, befriend people and I chat regularly to my clients and support them in any way I can. I have helped organise free taxis to take people for their vaccinations and I source hot meals for those in need.
In my role at Groundwork I have also helped with a government project – helping those struggling with finances and providing food parcels, fresh meat, vegetables, fruit and a small booklet with recipe ideas from the items they received. This project is now in its second phase and we are still supporting people and families in the local community.
I have also been a referral point for the Covid Winter Grant during the pandemic, helping people on a low income complete a council application so they can receive a supermarket food voucher.
My work involves having a close working relationship with council staff in Kettering and the wider Community Resilience Hub where all of the pandemic response activity is co-ordinated from an Emergency Planning basis.
In my capacity as a Groundwork team member I am now also working on another project which involves working with people of all ages and re-engaging with the community. Many people have stayed indoors for a whole year and we now need to support them in going out and feeling safe.
I love the flexibility and diversity of my role but also my incredibly supportive bosses, Kate and Sean. I love the happiness it brings to my clients and the difference I can make to other people's lives. Often my clients will ring me and ask for general help and advice, sometimes they are in crisis and I support them by signposting them to other services. Some are a quick fix and some very complicated, but with all the skills I have learned in life, I find it quite easy to assist them.
I have been a nurse for 30 years and am used to thinking on my feet and every day being different. I love this aspect of my role now. I could never be a 9-5 person who does the same routine every day. I have days when I work from home on admin, days when I am on the phone all day to different clients just catching up and chatting. Thursdays are spent at The Green Patch, stocking up the donation shed, shopping for the government project and chatting.
My daughter and I also walk a client's dog twice a week – Bella the long haired lurcher, she is gorgeous and we both love it! This is something we do in our own time now as it's very beneficial for my daughter.
I have taken the time to really make the role my own, when I first started I had to learn very quickly about charity services and what facilities were already established in the community and to tap into them. My boss Sean assisted me with this as he is very established in the volunteer network, but the whole community network is very welcoming. I'm looking forward to starting new projects and working out how and what we are going to do and planning and implementing this.
The work that Groundwork does and my day-to-day role makes a real difference to people's lives. Sometimes it can be desperately sad to witness the struggles people are going through, but it's also so rewarding.
People trust me and trust I feel is very important in any working relationship as is a holistic approach.
I aim to make people feel safe and secure and for them to know that they can ring me whenever they are in need and I will do what I can to help. If it's something I can't help them with I will be honest and say, but I will take the time to do research and see if I can find someone to help them.
I chat, shop, signpost and am a shoulder (or telephone call) to cry on. We laugh and put the world to rights. I help people in severe financial difficulty to find the help they need, not just for them but their animals too. With my senior nursing background, I am also able to assist people if they are worried about health issues – there are so many differences I can make I can't name them all.
No matter your age or background, anyone can benefit from the work Groundwork Northamptonshire does.