UK homes are among the least efficient in Europe and as a result illness related to living in a cold homes cost the NHS approximately £850 million per year.
Our Energyworks team offer a number of services to Greater Manchester residents enabling them to be warmer, healthier and better off in their homes.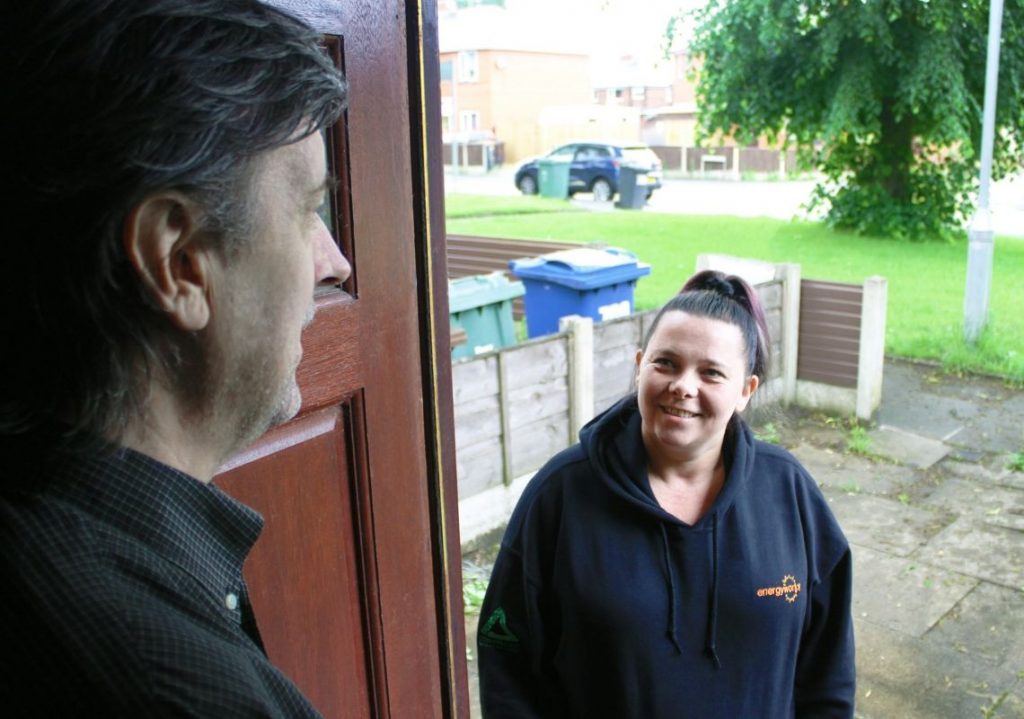 A typical Energyworks visit
The Groundwork Energyworks team arrange free in-home visit with Greater Manchester residents who are classified as vulnerable or living in cold homes. Appointments are typically made through partner referrals or by calling 0161 785 7417 or emailing energyworks@groundwork.org.uk.
Upon arrival at a residents home the Energyworks team will go through a simple questionnaire which allows them to gain a better understanding of household behaviours relating to utilities.
Throughout the visit the Energyworks team will recommend small measures that will be beneficial to the homeowner in reducing their energy bills and will cover a wide range of support areas including;
A home health check
Fuel debt advice
Independent switching advice with our switching service
Tips on how to reduce damp, mould and condensation
Money saving advice..
Energy saving measures can also be fitted for free during the visit (where appropriate), including;
LED energy efficiency lightbulbs
Draft insulation; including door brushes, letterbox covers and draft proofing strips around doors and windows
Radiator foils
Chimney balloons
Power down devices
Hot water cylinder covers
Shower aerators
During the visit the Energyworks team will also check for any additional large measures that you may be eligible for a grant for which may be beneficial to your home, such as a full central heating system, new boiler, cavity wall and loft insulation.
---
All round results
In 2018/19 the Energyworks team:
Delivered 7 major projects including installations of new central heating systems
Visited 1,970 homes to provide energy efficiency advice and install small measures
Supported 64 community organisations
Helped 2,870 people identify over £797,300 of savings on their fuel bills
Identified 170,956KgCO2e of domestic carbon savings
---
As well as in-home visits, our Energyworks team deliver presentations to community groups or in workplaces as well attending public events.
If you would like to enquire about any of the above or you require more information on the Energyworks programme please contact Suzanne Barningham, Energyworks Manager on:
07739635453
---
Thanks to funding from: