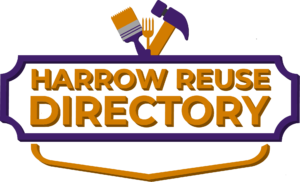 Are you a business, not-for-profit group, or social enterprise with a project or idea to reduce waste by repairing, reusing, or recycling in Harrow?
Harrow Council has commissioned Groundwork London to develop a self-managing online directory that promotes repair, reuse, and upcycle businesses in Harrow, helping organisations to expand their audience, while helping consumers to make ethical, sustainable choices. Add your business to the directory today!
The Directory
The Harrow Reuse Directory is an online platform which hosts information about all Harrow businesses that support the circular economy; Anyone who offers repair, reuse, and recycling services. Businesses and organisations can promote their services via the Directory and residents can find the information they need quickly and easily, helping Harrow to become a more sustainable place. It offers the chance for products to live multiple lifecycles, maximising their value before disposal.
It's quick and simple to make a profile for your business or organisation on the Directory. Check back here in a couple of weeks for a link to the brand new Harrow Reuse Directory, and instructions on how to get your organisation listed.
Featured Projects
Prior to the launch of the Harrow Reuse Directory, Harrow Council awarded three £9,374 grants to local projects and businesses whose aims aligned with that of the directory. Find out more about the grant-winning projects: