'Learning at work' week is an annual event that aims to bring awareness to learning culture. It brings to light how this supports us all with continuous growth and development within the workplace.
---
This Learning at Work Week, we'll be focusing on our Kickstart endeavours. Groundwork London delivers the Kickstart Scheme with the aim of giving young people the opportunity to launch their careers in the wide array of sectors that we cover. Karis, who was able to secure a placement on the Marketing and Communications team, would love to share her experience so far on her Kickstart journey.
Karis, has strong interest in languages and culture with an educational background in Game Development and Digital Art. With not many career opportunities coming her way in this line she began exploring in other sectors. This includes being part of a Geography IT team, Event planning, and social media managing.
Throughout all of those experiences, the interest in Digital Marketing became prominent. Karis has now discovered her true calling in marketing and communications.
How did you join Groundwork?
"Initially I was part of the NEET programme, although it was very brief. My work coach had talked to me about NEET, and suggested this would be a great place for me to look for digital marketing opportunities. At the time I was looking for Digital Marketing Apprenticeships.
I was apprehensive at first, however I contacted Lorder who was extremely kind and had a call with me, taking me through what NEET did and who Groundwork London is. She was able to get me into quick contact with Paige who became my Employment Advisor, and that's where my Groundwork journey began, on February 9th. 
Paige was lovely, and really helped me with narrowing down the things I wanted to focus on. She helped build my confidence too. We had a CV reviewing session which helped me fine tune the language and I valued this a lot as her feedback and knowledge was super helpful. 
I joined the Women Workshop week from February 21st – 25th and in this time, I was contacted by Nathan an, Employment Liaison Officer at GWL, who informed me of the Kickstart position for the Marketing and Comms team and sent my CV to the then Comms Team Manager, Vicki.
I was incredibly excited as this was the kind of role I've been looking for. After meeting with Vicki who was very understanding, the interview was a success! Thanks to both of them for considering me for the position. A lot of hard work was put in establishing communication with my UC work coach to finalise details."
How's your time within the team?
"Everyone is incredibly hardworking and dedicated, b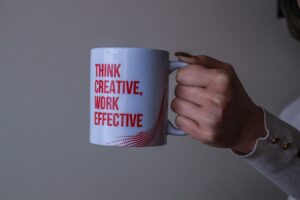 ut they've found ample time to teach me about GWL branding and marketing processes and protocol, especially in my first few weeks. I receive tons of valuable feedback and Maddie, my manager keeps a very close eye on me. She actually gave me the very first big project when I joined, which was the coordination and publication of the internal Staff Newsletter. I enjoyed this as the responsibility and scale of the task kept me quite occupied.  
Within this period I learnt to manage the marketing and communications email inbox and create email campaigns on SendInBlue. Additionally I became familiar with Sprout Social and monitoring social media activity also. Within these day to day responsibilities, I feel I'm doing something truly valuable which demonstrates my role within this team. With each passing day, I'm gaining more confidence in taking on bigger responsibilities and understanding the tones to use when engaging with different stakeholders. I suspect in future I'll become fluent in the Groundwork tongue."
Could you tell us a bit about your recent endeavours?
"Recently I've started supporting Rachel with the Events Calendar. I've been gaining knowledge of how to align the social media campaigns with the positioning strategy of Groundwork. 
Beside this, I had my first experience very recently with using WordPress. I updated the Arch Day Match-fund page for this year to help promote The Arch Company's Arch Day event, as well as sending out and creating social posts with guidance and support from Rachel. This engaged me a lot, as I find web design and maintenance interesting. As a result. I got to see CMS functions from the backend of the website. I really felt a sense of accomplishment when everything went smoothly.
Although it hasn't been all that long, I'd say in my short time here I've learned a great deal. There're frequent team meetings and numerous opportunities for me to support on projects, this hands-on approach helps me tremendously. I'm always able to ask if I'm feeling unsure and encouraged to share my perspective. I'm immensely thankful as it helps me learn a lot." 
---
Learn more about Kickstart Scheme and if you're interested in taking part, get in touch with our team at Gwl.Kickstart@Groundwork.org.uk or 07809 202 551.