A safe, clean alternative to bonfires.
Designed and developed by Groundwork Northern Ireland, Beacons have become a popular attraction for community and cultural festivals including July celebrations and Halloween. Beacons provide a safe, environmentally clean alternative to traditional bonfires. Each Beacon is designed to be reusable. The two-part steel structure is 5 metres tall and is pre-filled with carbon-neutral willow wood.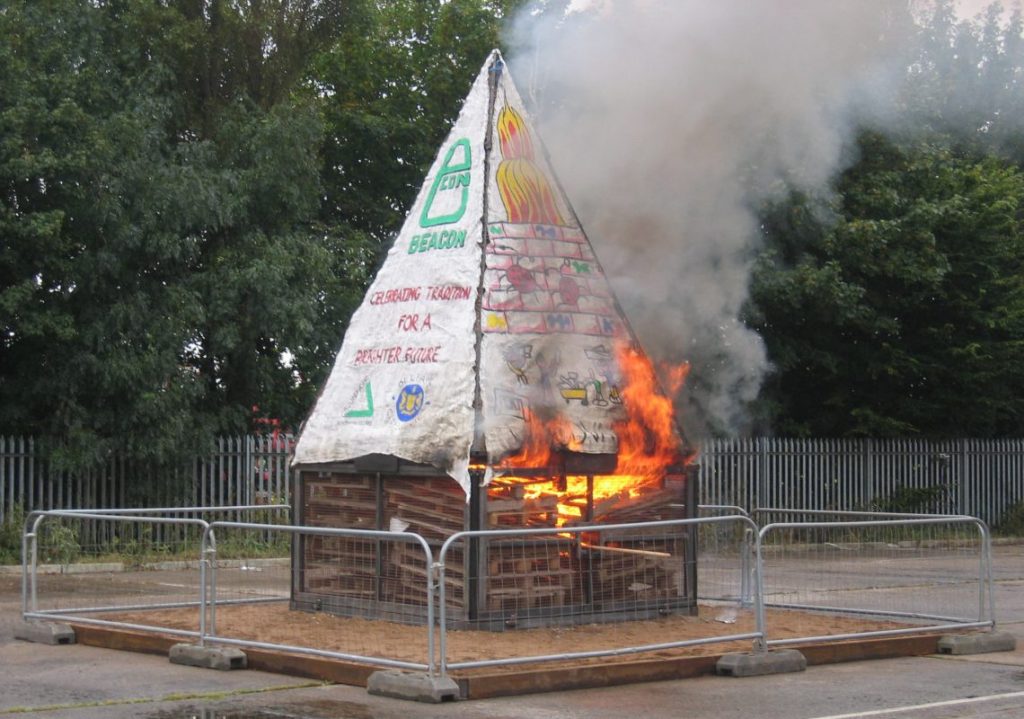 We had a great time and as ever the Beacon played an integral role in our Halloween Celebration.

Thank you again for your professional service.

Downpatrick Community Collective
The Beacon stands on a bed of sand, which protects the underlying surface and avoids damage to roads, car parks or grass when the Beacon is lit.
Since 2008, Groundwork NI has delivered and installed Beacons for a range of cultural and community events across Northern Ireland.
Councils, housing associations and community groups are increasingly choosing to hire beacons from us as an environmentally friendly and cost-effective way to have a bonfire at celebrations.
Beacons are available to rent year-round. Rental includes transport of the beacon, lighting equipment, safety kit and signage, and fire safety assessment. If you are unsure whether a beacon is suitable for your event, please get in touch and we can answer any questions.
How does it work?
Order your Beacon hire from Groundwork NI
Receive a site survey & fire risk report
The Beacon is installed before your event
You receive a Beacon lighting kit
Enjoy your Beacon during your celebration event
The Beacon is deconstructed and taken away
If you would like more information about Beacons, or to request flyers, please contact Julie: beacons@groundworkni.co.uk