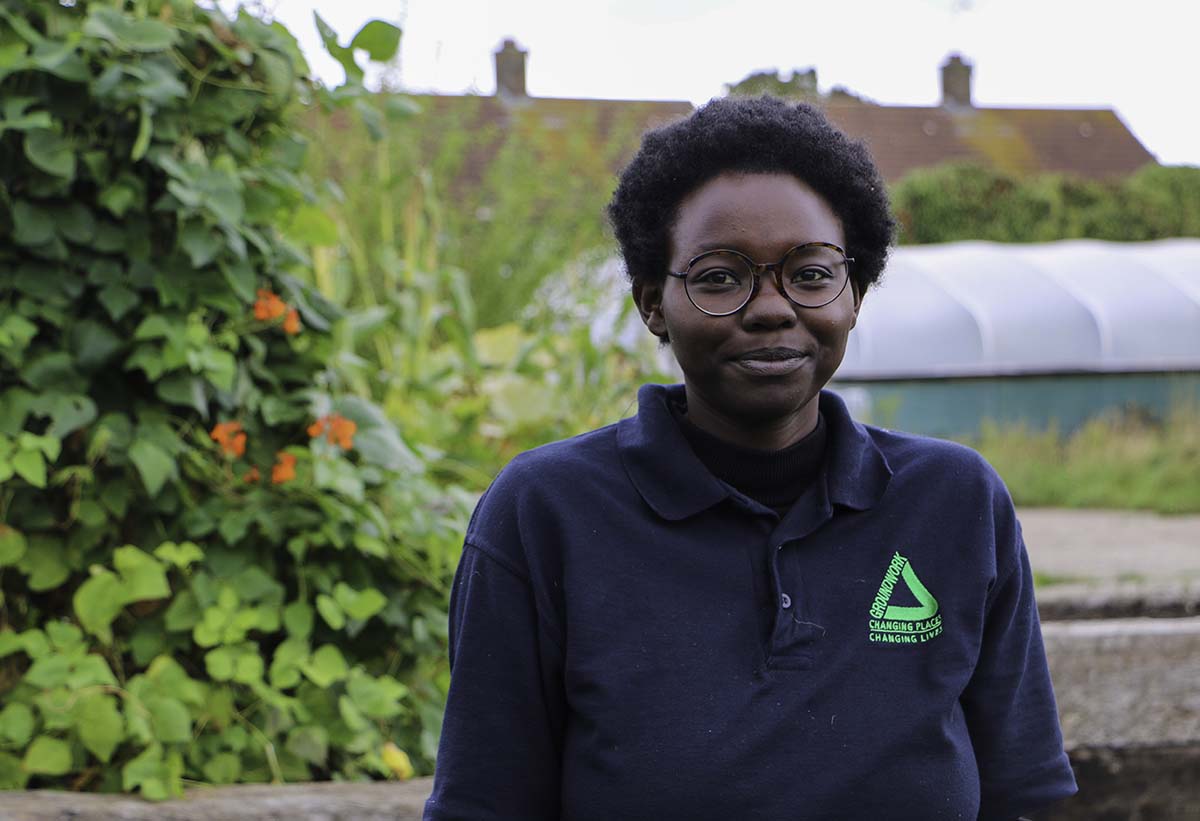 Meet Hellen.
Hellen is currently working as an Environmental Projects Assistant at Grow Speke, community garden in South Liverpool. She joined Groundwork through Kickstart. This is a government funded scheme offering 16-24 year olds on Universal Credit the chance of a 6 month job with a local employer.
Hellen Says ………
I mainly grew up in Rochdale in Manchester, but my family travelled around quite a lot when I was younger. It gave me the chance to take photographs of the various places we lived in and visited, leading to my lifelong interest in photography.
My original plan was to become a photojournalist, but of course life often has other ideas. When my dad decided to buy a farm in Zambia, I came up with some ideas (from a distance) as to how he could develop it. Working on this together made me realise that I had a real passion for nature, growing, and working outdoors. This also linked in nicely with my passion for photography.
The role at Grow Speke ticked all of the boxes.
When my job coach spoke to me about applying for a Kickstart job, I was adamant that I wanted to work outside, learn more about growing and gardening and do something that gave back to the local community. Fortunately for me, the role at Grow Speke ticked all of these boxes.  The role really spoke out to me, because it was really varied and would provide me with lots of different experiences and the chance to gain new skills. I applied and after an interview, I was fortunate to be offered the job.
Gaining vital skills and knowledge
I've learned so much at Grow Speke in such a short time. My colleagues and the volunteers are so knowledgeable and passionate about what they do. I've also enjoyed spending time outdoors every day. The experience I've gained has already been really useful whilst I've been helping my dad to manage his organic farm. Things like how to grow food sustainably, how to make raised beds and storage crates and making fresh juice from apples. 
Grow Speke has helped me to appreciate the value of friendship and the impact that a strong community has on peoples' lives.
Caring for the environment
Groundwork has ignited my interest in upcycling. I've started making the things I need rather than buying them. I've even joined Groundwork's environment committee. Working at Grow Speke has helped me to appreciate the value of friendship and being part of a strong community. One day, I want my dad's farm in Zambia to include a community garden, with local people involved in its development and day to day running.
I am loving my time Grow Speke and playing a part of my local community in Liverpool has taught me so much.
When my Kickstart placement is over, I'm planning to visit my dad on the farm in Zambia. I'll have the chance to put everything I've learned at Groundwork into practice.  But for now I am loving my time Grow Speke and being part of the local community in Liverpool.