Green Enterprise is committed to helping people release their potential through a range of work-based business initiatives that can make an impact now and in the future.
There is no value in wasted talent. Much latent talent lies dormant in some of our most challenged communities in Wales due to poverty of aspiration and long-term unemployment. This has profound negative impacts on the health, wealth and well-being of individuals and the places they live.
Our Green Enterprise Initiatives aim to break this cycle of deprivation. Central is our proven belief that fulfilling work is a major factor in helping people to stay positive and enabling them to build a more sustainable economy, starting small in the local area and contributing to the bigger picture of a more prosperous Wales.
Green Enterprise works with a variety of strategic partners in the delivery of a range of work-based opportunities tailored to meet the specific employment needs of those from socially and economically disadvantaged backgrounds across Wales.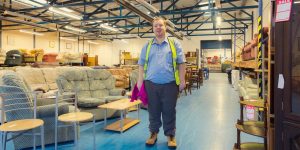 One success story of many is that of The Furniture Revival, a social enterprise owned by Groundwork Wales. Founded in 1990 the enterprise is succeeding in both minimising waste from landfill and at the same time, providing affordable second-hand furniture to individuals on low incomes.
The company has ambitions for growth and to alleviate poverty in its operational area. It supports the local community in the Upper Rhymney Valley by providing a volunteering hub to facilitate training opportunities and to enhance employability and skills.
Andrew Davies personifies the positive social impact and enhanced quality of life afforded by the hub. From an individual with low self-esteem and limited life-chances, he has revived and renewed himself into a core member of the customer services and warehousing team. And he won the Caerphilly Volunteer of the Year Award!
Andrew Davies, Volunteer at The Furniture Revival
Click here to visit the website https://thefurniturerevival.co.uk/