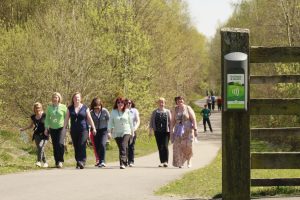 The Nurture Equip Thrive (NET) is a 5-year European Social Fund (ESF) programme, which is delivered in partnership with, and which works across, five local authorities in South East Wales: Caerphilly, Blaenau-Gwent, Merthyr Tydfil, Bridgend and Torfaen.
NET engages with both employed (or self-employed) individuals who are on long-term sick due to a work limiting health condition or disability, and local small to medium enterprises (SMEs).
Working within the NET partnership, Groundwork delivers a well-being programme to support individuals and employers.
We engage with employees who are on long-term sick leave and assign them to a fully trained and qualified health coach, who will provide support and a unique, health improvement plan; tailored to the employee's individual needs.
We also work with local small-to-medium enterprises (SMEs) with up to 250 employees, developing bespoke programmes to improve workplace health and wellbeing. Our programmes are designed to improve physical health, wellbeing and team working skills within the workplace, and reduce absence levels. We offer a range of free, physical activities and wellbeing support tailored to each organisation. Activities include:
Walking groups
Exercise classes
Team building activities
Company sport days and events
CBT workshops
Mindfulness sessions
For further information on how the NET programme can support you as an individual, or as an employer looking to develop a workplace well-being programme please contact Tel: 01495 222605
Email: NET@groundwork.org.uk
You can also register for the NET programme by completing the online form below.