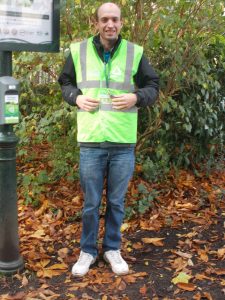 Gareth was one of over 6,000 people who participated in our pilot community prescribing programme, Go Green 4 Health.  Through the pilot we supported people to improve their health and well-being by engaging in low level outdoor exercise.
Gareth volunteered as a Walking Activity Volunteer. Gareth had always enjoyed being outdoors and keeping active, but was looking for an opportunity to boost his confidence. Gareth's Health Coach registered him on one of our walking groups as a Walking Activity Volunteer.
As a Walking Activity Volunteer, Gareth would take the register, scan walking cards and support participants on group walks. He also helped to promote the programme at local events.
Through his time with the programme, Gareth completed his Walk Leader qualification, enabling him to lead walking groups on his own. During his training, he gained new, practical skills: how to plan new walking routes and supervise walks. Gareth also gained new found confidence, socialising with new people and working as a part of a team.
After working with the pilot programme, Gareth was successfully employed at a local retail store. However, he is pleased he can continue to volunteer around his work commitments.
When we asked Gareth about volunteering with our pilot programme, he said
We currently support the health and well-being of individuals across South East Wales through the Nurture Equip Thrive (NET) programme. This is a 5-year European Social Fund (ESF) programme working across five local authorities in South East Wales: Caerphilly, Blaenau-Gwent, Merthyr Tydfil, Bridgend and Torfaen.
As part of the programme, we engage with employees who are on long-term sick leave and our health coaches support them with a health improvement plan which is tailored to their specific needs.
For further information on how NET may support you contact:
Ian Dennis  NET@groundwork.org.uk
Tel: 01495-222605
For more stories like these go to our YouTube