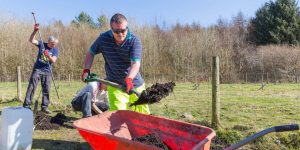 At Groundwork Wales we work towards our vision of a fairer more inclusive society. Tackling the gap between richest and poorest and breaking the cycle of disadvantage and inequality underpins everything we do.
Our experience on the ground tells us that increasing employability is vital to that vision and that moving people into work has a dramatic effect on the health, wealth and well-being of individuals, their communities and Wales as a whole.
Our strength is our sensitivity to the diverse needs of particular localities. Merthyr Tydfil is one such area. Here our Green Team is helping to make it a better and greener place hand in hand with providing volunteer members the opportunity to learn new skills, gain qualifications and improve employment prospects through the Agored Cymru accredited structured training programmes we offer.
The life-changing story of 23-year-old Jordan Jennings is illustrative of many who have benefitted from Green Team programmes.
Prior to joining the 7 week volunteering programme in Merthyr, Jordan had been unemployed and before that had temporary and insecure work as a general labourer with various builders.
From the start, Jordan was in his element in the natural environment working on a range of activities such as tree and shrub planting, land clearance and the establishment of a woodland path. Jordan soon established himself as a valued team member and displayed a mature and practical approach. He also undertook an accredited 'Introduction to Petrol Engine Strimmer' course which he successfully completed.
The result of this is that Jordan applied for jobs and gained full-time employment with Price Fencing and Landscaping in his local area where he is impressing his employer and developing his skills further.
"Volunteering with Groundwork Wales has helped me get away from the negative crowd I was in with. Working with the people in the Green Team gave me the confidence to apply for jobs".
Jordan Jennings, Volunteer with Green Teams, Merthyr Tydfil