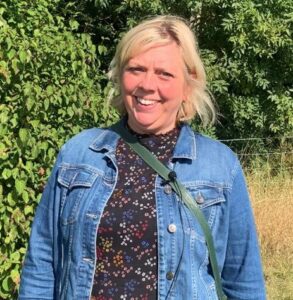 Kate Williams is an Executive Director at Groundwork, a role she's had for just over four years and which involves working with the Board of Trustees, Senior Management Team and wider staff members. Here she tells us why her job makes her smile and why she feels very lucky to be heading up such a wonderful organisation.
A big part of my role is to ensure the smooth, professional and safe running of the charity and I work closely with partners and love building services in collaboration with other organisations.
I spend quite a lot of time considering and writing funding bids and applications to secure our services for those who need them the most and I attend a range of partnership meetings and also have a key role with the day to day financial and legal management of the charity.
A typical week would see me working from the office to sign various paperwork and see staff, attend finance meetings and have conversations with our Chair. During this time, I'd probably also write a funding bid, talk with Groundwork UK about national initiatives and most importantly support our wonderful staff team to deliver our broad range of projects. I love visiting our projects and will always try and include a trip to The Green Patch to see if there are any eggs for sale or a tray of plants to take home.
I started at Groundwork in 2005, I was moving to the area from Sheffield and looking for a job which was based around communities and project management. I started as a Project Officer and was only the third member of staff to join the organisation, they were pulling a team together and needed someone with an interest in working with the community.
I was so thrilled to get the job and very quickly got stuck in with a heritage project at West Glebe in Corby and a community drop in café in East Northants. We soon established a broad base of projects and needed more staff to support us. I was responsible for employing our first youth worker and for supporting our links to grow with the community group starting The Green Patch. I was then promoted to be a programme lead for the environment alongside colleagues heading up community and youth.
During this time, I took a couple of extensive periods of leave to have my children and returned to the Trust in 2011. In 2015 the position of Executive Director became vacant and I was successfully appointed. I have since overseen a considerable amount of change within the trust alongside my senior colleagues and am really proud of the organisation we are today.
I was motivated to join the charitable sector through various volunteer roles I've held in the past and my personal beliefs to support and encourage others who are having a difficult time. I really enjoy meeting and working with new people and feel I've become much stronger at handling challenging situations. I'm always learning and regularly not right but I have built my confidence to make good decisions and always ensure I ask and listen to those around me. I encourage others to consider taking leadership roles as people from different life experiences bring so much to leadership.
There's so much I love about my job and the organisation it's hard to pinpoint just one thing but I love visiting sessions we are running or hearing from staff about the difference we are making.
I absolutely value and respect the need to be regularly in a green space and I start nearly every day walking barefoot around my garden to see what has grown overnight and I feel it doing me good. I want to encourage others to see that, especially those who are struggling under the stresses and strains of life and particularly for young people who can build such a wonderful relationship with nature if they are introduced at a young age.
I really love working with our team of staff and volunteers who are all exceptional in their roles and selfless in their commitment – they are skilled, exciting and creative and bring so much to our organisation.
There are so many things to be proud of at Groundwork
The Green Patch has a very special place in my heart and I love it when I see the joy and support it brings to others. I'm really proud of our youth work and those who support children and young people with huge mountains to climb, they offer calm, kind and insightful sessions which bring real purpose to their week.
I'm also proud of our link to Made With Many and the relationship and strength that has brought to Groundwork and also KHL who are outstanding in their commitment to communities and supporting where it's needed.
We're great at bringing people together at Groundwork and successful collaborations have included: Grow Festivals in Corby, KHL Field Day Festivals, Green Patch Open Days and even our team and Board Meetings – we are all stronger together.
We took the Twywell project on just over 1 year ago and I'm incredibly proud of the difference our Ranger and local contractors have made to a very special place for lots of people – it now feels loved and looked after and the community are responding, as well as the butterflies.
During Covid our team responded amazingly, we rolled our sleeves up and worked really hard to listen and support where we could.
I'm passionate about people feeling happy, included and supported and about us all looking after ourselves and our planet.
I'm passionate about my kids and my local community and feeding into what happens locally, but by being involved and helping – not just by commenting. I love having 'a go' at things and am never put off by not being an expert – I wish more people would just have a go at things they think they might be interested in.
What do you do when you're not working?
When I'm not working, I love cooking, making things, watching films and listening to the radio and music. I also love gardening and having lots of solitary bee houses in my garden and talking to my family and friends and seeing how they are. I love my dog and taking him on huge walks and getting very muddy, and I enjoy wine, spicy foods and a lovely cup of tea.
We have lots of future plans and ideas for Groundwork
We would love to realise more spaces that could be Green Patches across the county and we want to build our profile in the West Unitary area and continue to strengthen what we have in the North.
Supporting communities to understand the climate and the environment and get on board and involved in meaningful way is particularly important to us as is offering services for families and young people to support them through tough times and building on what we already have.
We also want to recruit more board members and build our service users voice more into our strategic planning.