Throughout 2021 Groundwork will be running gardening sessions for groups of veterans to develop new skills and confidence to grow their own food, with the option to complete a 6 week cookery course with Cracking Good Food CIC to develop cooking skills to make healthy and nutritional meals using their locally grown produce.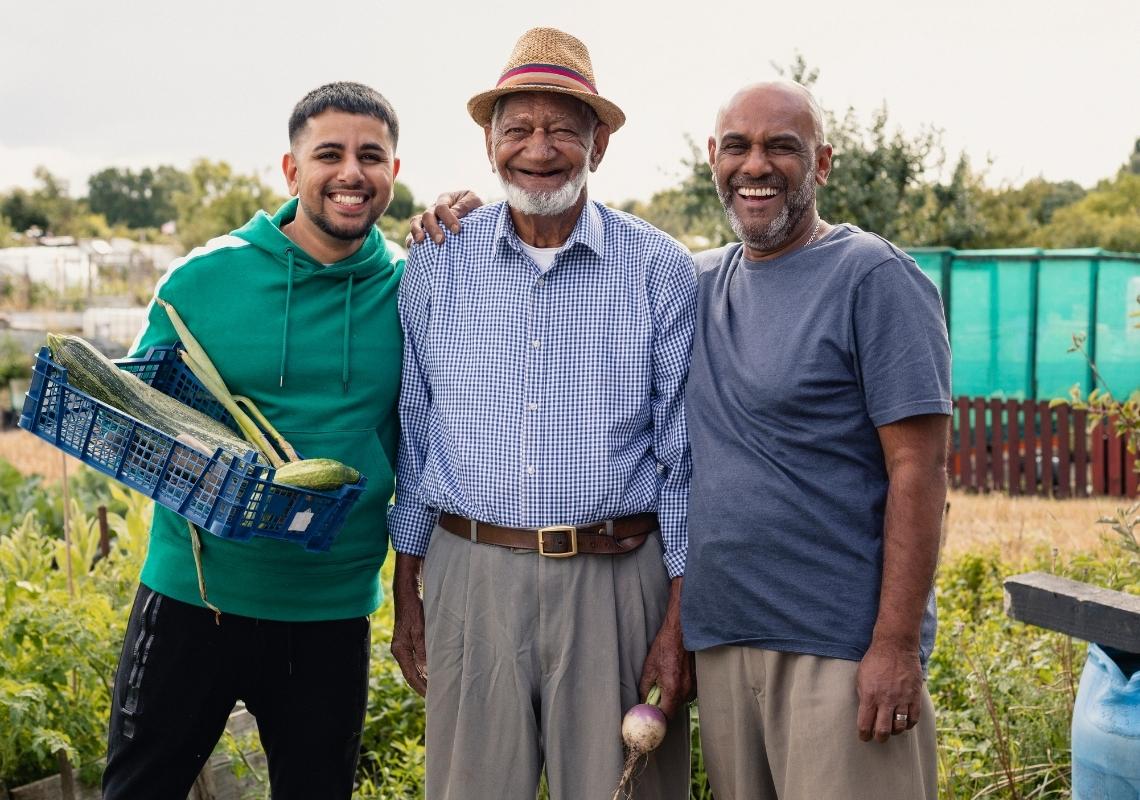 Grow, Cook & Eat will be delivered in Trafford and Rochdale; making use of an established allotment site and connected cooking school in Trafford and an appetite for something similar in Rochdale.
Grow, Cook & Eat sessions will be fun and informal – helping veterans to develop new skills around both food growing and cookery skills. The regular sessions will help isolated veterans to build social networks and join the allotment community, which is ripe across Greater Manchester. The sessions will feature activities which will improve both their mental and physical health.
---
Grow Sessions
During main growing season, April and October, we will run a rolling programme of horticultural activities and training sessions for groups of veterans at community allotments in Rochdale and Traffordk. Sessions will focus on developing skills, confidence and knowledge around growing fruit and vegetables – with opportunities for experienced growers to buddy with people new to gardening. Sessions will cover health and safety; tool use and equipment choice; planning, understanding gardening year and crop selection; ground preparation; composting; organic principles; propagation; identifying and controlling common weeds and pests; vegetable growing, fruit growing; harvesting and storing crops.
---
Cook & Eat Sessions
Our 'Cook and eat' sessions will be delivered by Cracking Good Food CIC in their pop up kitchen in sites local to the veterans allotments for 6 weeks after the growing course. These sessions are designed to strengthen healthy and nutritious cooking within the familiar framework of breakfast, lunch, dinner & snacks. Veterans will develop learning around nutrition, affordability, resourcefulness, cooking techniques, healthy portions, batch and freeze, understanding labelling, food hygiene, food waste, preserving and energy efficiency whilst using seasonal locally grown food. Each session will be themed, informative, include a fully participatory cooking workshop whilst building up a store cupboard of spices for home use whilst learning about the health benefits.
At the end of the 6 week course, subject to Covid-19 guidance, friends and family will be invited to final celebratory session to share food prepared by group.
---
More information
For more information please or to make a referral to the course please contact Terry Morley, Veterans Programme Manager.
Or join the Operation Re:Org Facebook Page.
---
Made possible thanks to funding from:

This project is an Armed Forces Covenant Positive Pathways programme delivering activities which support the mental health and wellbeing of ex-Forces.